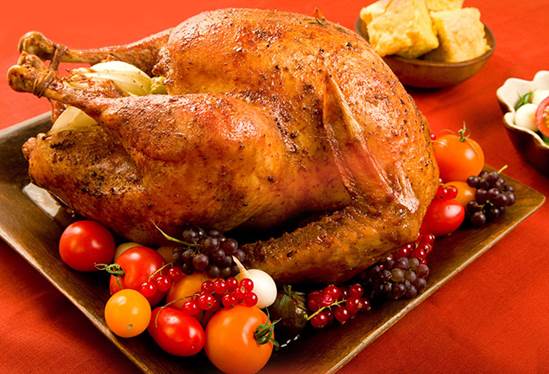 #Foodies can rejoice this Thanksgiving because Bigelow Tea will make sure you have a tea-lightful holiday! Cooking a feast can take hours, so hopefully you have a little help in the kitchen. A sous chef (aka a friend or mother-in-law), along with a steaming mug of your favorite Bigelow Tea flavor, like "Constant Comment®", is all you really need. Instagrammer and #ConstantComment tea fan shellmorel loves "being able to have afternoons with Ma and Pa and have tea…" and Thanksgiving is the perfect day to bond with family.
You probably know by now that Bigelow Tea is not just for sipping, so use it to whip up a few of your Thanksgiving feast favorites. Try one of these recipes, below, and you will stir up #ConstantComment for years to come—they really are that delicious!
Roasted Turkey with Constant Comment Glaze
Ingredients
Glaze:
1 cup (250mL) boiling water
⅔ cup (160mL) brown sugar
2 tablespoons (30mL) butter
½ cup (125mL) cranberry juice
Turkey and Gravy:
1 10-15 pound (5-7.5g) turkey (thawed if previously frozen)
1 lemon, cut into four pieces
1 onion, peeled and cut into four pieces
1 cup (250mL) chicken stock
2 tablespoons (30mL) cornstarch
Salt and pepper to taste
Instructions
Preheat the oven to 350º. Steep tea bags in 1 cup boiling water for 5 minutes. Squeeze excess liquid out of tea bags and discard. Reserve tea. Meanwhile, prepare a glaze by heating butter, brown sugar and cranberry juice into a saucepan over medium heat until butter is melted and sugar is dissolved. Add tea and reduce mixture by cooking over medium high heat for 15 minutes. Set aside. To prepare turkey, remove giblets and neck from turkey, rinse inside and out and pat dry. Place a cut lemon and a cut-up onion into the cavity and truss the turkey. Place in an open roasting pan breast side up. Brush skin with glaze. Bake turkey in preheated oven. Keep glaze warm on stove and continue basting with glaze every 20 minutes. Remove turkey from oven and let stand for at least 20 minutes before carving. Discard any unused glaze. To make gravy, dissolve cornstarch in chicken stock. Place roasting pan on burner over medium heat, scraping browned bits. Add stock whisking constantly until thickened; about 1 minute. Strain gravy and serve with turkey. As a nice alternative, use a 9-11 pound oven stuffer roaster chicken in place of the turkey. For best results, tie the chicken with string at the legs and the wings. For the glaze reduce the number of tea bags from 12 to 8.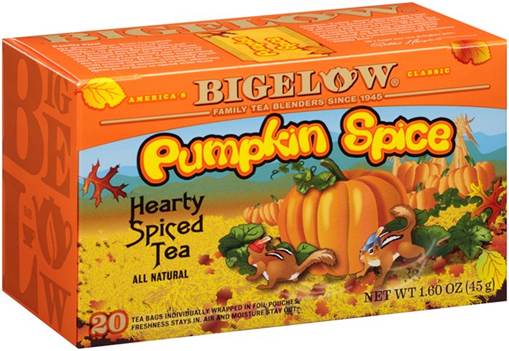 If you're feeling festive this year, switch out the usual pumpkin pie for Pumpkin Spice Cupcakes made with Bigelow Tea's Pumpkin Spice tea. This recipe is #delish.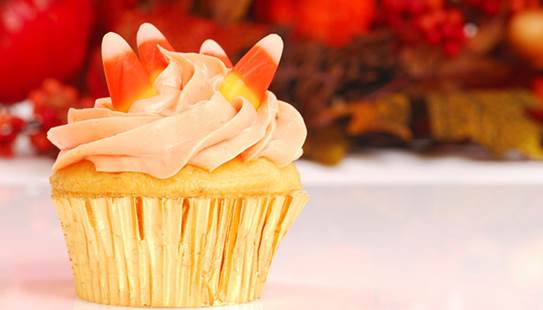 Ingredients
Tea Concentrate:
13 tea bags Bigelow Pumpkin Spice Tea*
1 ¼ cups boiling water
Cupcakes:
1 ¾ cup sugar
¾ cup vegetable oil
3 eggs
1 (11-ounce) can mandarin oranges, drained, discard liquid
½ cup tea concentrate
2 teaspoons real vanilla extract
2 teaspoons freshly grated orange zest
2 ½ cups all-purpose flour
2 ½ teaspoons baking soda
2 teaspoons ground cinnamon
½ teaspoon salt
2 cups shredded carrots
Frosting:
1 (8-ounce) package cream cheese, slightly soft
1 tablespoon butter, softened
2 tablespoons tea concentrate
3 ½ cups confectioners' sugar
Instructions
Place tea bags in a 2-cup glass measure. Add 1 ¼ cups water. Steep tea for 10 minutes. Squeeze all liquid from tea bags into cup. Discard tea bags. (About 1 cup plus 2 tablespoons tea concentrate.) Heat oven to 350 F. Spray 2 (12-cup) muffin tins with baking spray; alternatively use paper liners set aside. In large mixing bowl add sugar, vegetable oil and eggs. Mix at high speed, scraping bowl often, until thick and creamy (1 to 2 minutes). Add mandarin oranges, ½ cup tea concentrate, vanilla, and orange zest. Continue mixing, scraping bowl often, until well mixed (1 minute). In medium bowl stir together flour, baking soda, cinnamon, and salt. Add flour mixture to tea mixture. Continue mixing, at low speed, until well mixed (1 to 2 minutes). Add carrots; mix well. Place batter in muffin cups filling about ½ to ¾ full. Bake for 18 to 20 minutes or until wooden pick inserted in center comes out clean. Remove from oven; cool. Meanwhile, in medium mixing bowl place cream cheese and butter. Mix at high speed, scraping bowl often, until light and creamy (1 minute). Add 2 tablespoons tea extract. Mix well. Add confectioners' sugar; continue mixing, scraping bowl often, until soft and creamy (1 to 2 minutes). Frost top of each cupcake with frosting.