Pepper Steaks and Tea Rolls, Recipes for the Season
Friday, 26 October 2007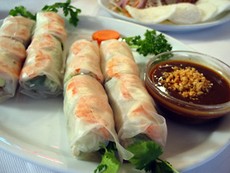 Ingredients:
½ pound (250g) mushrooms, diced
4 medium carrots, julienned
1 ¼ cups (310mL) snow peas, stemmed, strings removed and very finely julienned
1 ¼ cup (310mL) bean sprouts
4 green onions, cut into thin slivers
16 large basil leaves
16 rice paper wrappers
3 cups (750mL) boiling water
10 Bigelow® Green Tea with Mint tea bags
Dipping Sauce:
½ cup (125mL) boiling water
6 Bigelow® Green Tea with Mint tea bags
½ cup (125mL) fresh lime juice
3 tablespoons (45mL) low sodium soy sauce
1 tablespoon (15mL) honey
1 tablespoon (15mL) Asian Chili Sauce
2 garlic cloves, minced
1 teaspoon (5mL) fresh ginger
2 green onions, minced
Instructions:
Bring a small saucepan of water to a boil, add mushrooms, carrots, snow peas and bean sprouts, blanch for 1 minute, and transfer to a paper towel. Have green onions and basil leaves prepared.
Boil 3 cups (750mL) water, add 10 tea bags and let steep for 5 minutes. Remove tea bags. Pour tea into a low sided casserole. Cool.
To assemble rolls, soak sheets of rice paper in tea for 1 minute, carefully transfer to a paper towel, let sit 1-2 minutes or until pliable.
To assemble each roll, take a soaked wrapper, arrange 1/16th of the vegetables in a row on top of the wrapper, roll up rice papper folding in flaps after first turn. Add one basil leaf, keep rolling. Continue until all the rolls are finished. The rolls will keep in the refrigerator for 6 hours, tightly covered. To serve cut in half on the diagonal and serve with dipping sauce.
To make sauce, pour boiling water over 6 tea bags, let steep five minutes, remove tea bags. Combine tea, lime juice, soy sauce, honey, garlic, ginger and green onions. Mix well and serve with wrappers.
Yield: Serves 8 (2 each) Prep Time: 45 mins Cook Time: 2 mins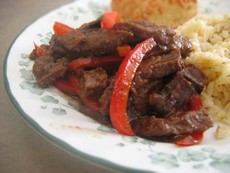 Ingredients:
1 cup (250mL) boiling water
12 Bigelow® Pomegranate Pizzazz tea bags
3 red bell peppers, seeded and sliced in strips
2 tablespoons (30mL) olive oil
4 – 6oz. (168g) round steak, tenderized
Salt to taste
Dash of pepper
Pomegranate seeds for garnish (opitional)
Instructions:
Add tea bags to boiling water. Let steep for 5 minutes. Remove tea bags, squeezing well. Reserve.
Add olive oil to a heavy skillet, saute peppers until soft. Set aside.
Add steak to peppers and continue sauteing for about 5 minutes on each side or until done to your taste.
Place steaks on a warm plate, top with peppers, Keep warm.
Pour tea into hot skillet, add salt and pepper, stirring and scrapping brown pits from pan. Boil to reduce liquid to ½ cup (125mL). Pour sauce over steak and peppers. Serve with hot rice. Garnish with pomegranate seeds is desired.
Yield: Serves 4