Celebrate the 4th With Refreshing Iced Tea
Friday, 4 July 2008
Whether you celebrate Independence Day, the commemoration of the signing of the Declaration of Independence, with fireworks, parades, backyard barbecues, carnivals, picnics, baseball games or something else, be sure to quench your thirst this 4th of July weekend with one of our refreshing iced tea recipes – – wherever you celebrate.
Speaking of history and tea, think about this interesting tea tidbit from one of our friends at gather.com:
"…there is an old joke in my village's history book. When tea was first brought to Long Island in 1700, the locals didn't know what to do with it, so they cooked it and ate it like spinach while others spread the leaves on bread like butter." (quoted from Echoes From the Past, Elisabeth S. Lapham)
And why not?  Yet, perhaps you'd rather stick to iced tea, like the one below, or try some of our other tea recipes.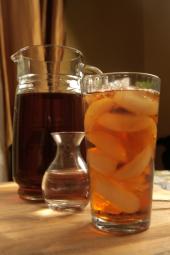 Peach Chai Iced Tea
Ingredients:
1½ cups cold water
3 Bigelow® Perfect Peach® Herbal Tea Bags
3 Bigelow® Spiced Chai Tea Bags
7 cups of cold water
Instructions:
Recipe created by Dorinda of Covington GA, 3rd place winner 2007 Iced Tea Recipe Contest
Place 1½ cups boiling water over tea bags in a 4-cup glass measuring cup. Let steep for 10 minutes. Squeeze and remove tea bags, let the concentrated tea cool.
Pour concentrate into a 3-quart pitcher. Add the cold water and stir. Pour into ice-filled glasses and serve.
For more tea recipes and entertaining ideas, go to http://www.bigelowtea.com/entertaining/recipes/