Celebrate National Ice Cream Month the Bigelow Way
Friday, 11 July 2008
Nothing screams ice cream like July. Why? Because in 1984, then President, Ronald Regan designated that perfect summer month as the right time to support the Dairy Industry.  He recognized ice cream as a fun and nutritious food that is enjoyed by a full 90% of the nation's population.  So come on…celebrate National Ice Cream Month and make your delicious summer days just a little sweeter with the following recipe.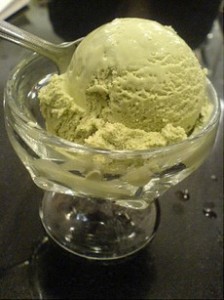 Green Tea Lemon Ice Cream
Ingredients: 
2/3 cups granulated sugar
Yield: 1 1/2 quarts
Instructions: 
In a small saucepan, combine the 6 tea bags and 1/2 cup of the milk until bubbles are visible, immediately take off heat and steep for 5 minutes. Strain tea bags, squeezing out all of the remaining liquid. Beat eggs in a medium size bowl. Temper the warm tea/milk mixture with the eggs (meaning add a quarter of the warm tea/milk to the beaten eggs and keep whisking until completely combined). Add sugar and heavy cream. Whisk vigorously, until well combined. Follow directions on a commercial ice cream maker. As the ice cream machine is going slowly add the mixture. Time for 30 minutes. After this time ice cream will be ready to consume or remove and place in an airtight plastic container and freeze.