Tea, a Natural Dye
Friday, 25 July 2008
All it takes to discover another way to enjoy your favorite beverage-tea is the leaf, loose or bagged, boiled water, a container and a few utensils.
Tea Dyeing is perfect for covering stained white or ecru table linens, blouses and shirts, or for matching aged lace. It is also used to create a warm antique or primitive look in hand crafted items. There are many recipes on the internet similar to the one available at Plant Cultures to help you get underway. Before you begin the process, please ensure that you do a test on a portion of your textile to see if it will take the color well; because, according to the experts at Quilting Assistants.com this form of dyeing gives the most satisfactory results when it is being used on natural fabrics such as the linens, cottons, silks and muslins that artists, like cloth doll maker Madeleine Sara Maddocks use for their craft.
To complete your tea dyeing project a visit to Sharon Darling's Quilter's Review site will guide you through a simple method for preserving your work from fading by making the color permanent using vinegar, water and salt.
A Sample of Tea Dyeing in a mixed media, art fabric piece created by Cyndi at Layers Upon Layers
(Step by Step instructions for re-creating this are provided at her site.)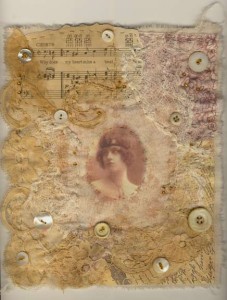 More Tea Dyeing Ideas:
Tea Infused Eggs
Aging Paper at Inkin' and Thinkin'