Keeping Kashrut — Celebrate Passover with Select Kosher Bigelow Teas
Wednesday, 8 April 2009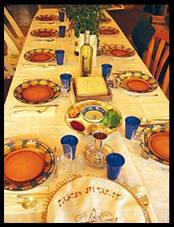 Photo Courtesy of Wikipedia.org
As members of the Jewish faith begin the festive, holy season of Pesach (Passover), they commence an eight-day period of religious observance in memory of the exodus and freedom of the Israelites from Egypt, after enduring 400 years of slavery. Families gather and large feasts, called Seders, are lovingly prepared and these lavish meals are the focal point of the Passover celebration. Dietary guidelines are strictly observed: leavened bread and other fermented wheat grain products, referred to as chametz, are strictly forbidden. All food consumed during this festival of freedom must be Kosher for Passover, in compliance with Jewish dietary laws or Kashrut.
Bigelow Tea is proud to have been awarded Kof-K Kosher for Passover certification on 41 of their popular tea flavors, from the Blended Black Tea, Herbal Tea and Green Tea selections, and this has not gone unnoticed.  Supermarkets (including the cyberspace variety) specializing in Kosher products are citing Bigelow Tea in their Exciting Passover Products category! After all the family and friends have gone home and all the dishes are put away, what better way to relax and reflect on the day's events than to sit back and sip some soothing Cozy Chamomile® Herbal Tea?
This year, Passover begins at sunset on Wednesday, April 8th with the first Seder of this eight-day celebration, and ends on Thursday, April 16th. To the men, women and children (and pets) participating in the festivities of this season, the family and employees of Bigelow wish you much laughter and joy, peace and good health as you celebrate Passover.