Bigelow Tea Celebrates World Health Day 2009
Thursday, 9 April 2009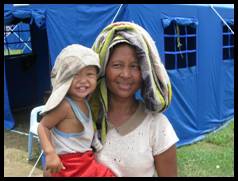 Photo courtesy of SEARO World Health Organization
"Everybody can be great…because anybody can serve. You don't have to have a college degree to serve. You don't have to make your subject and verb agree to serve.  You only need a heart full of grace. A soul generated by love."
—Martin Luther King, Jr.
Yes, it does take a village. As natural disasters tax our resources, we — the global community — must be prepared to respond to emergency situations quickly, safely and compassionately. That's why this year's World Health Day focus is:  "Save Lives. Make hospitals safe in emergencies." As public health arm for the United Nations, the World Health Organization passionately supports its goal to raise awareness of this global initiative. The goal is to ensure that healthcare facilities, services and personnel are trained and prepared to respond in emergencies and that communities around the world actively participate in this effort.
At Bigelow Tea, giving back to the community and contributing to worthy local and national causes is part of our corporate culture. At our core is the desire to make a difference, like forging alliances with tea gardens in Asia-Pacific regions with sustainable farming practices, who — like Bigelow Tea — treat workers and their families with dignity and respect. It's by promoting environmental sustainability with a new selection of organic teas, and by utilizing biodegradable or recyclable tea packaging: Bigelow Tea is making a difference.
As citizens of the world, we face many challenges, natural and man-made. Still, there is great hope, and it doesn't take much to put a smile on the face of a mother and her child. Just a little compassion and the willingness to help.