Our Newest Organic Bigelow Teas
Tuesday, 9 June 2009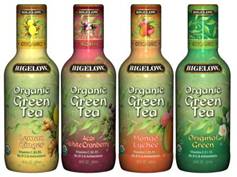 I am so thrilled to share with you our newest teas. We just launched the most amazing bottled organic green teas… Lemon Ginger, Acai White Cranberry, Original Green and Mango Lychee.
Of course I would say they are amazing BUT they really do taste so good. We didn't want them too sweet so we lightly sweetened each with organic cane juice (only 50 calories per serving). They are loaded with vitamins, antioxidants and they have no artificial flavors, colors or preservatives. But it is the beautiful delicate flavor that I truly love.
We wanted something that had the light taste of green tea married with delicious, appealing flavors. It took over a year to get the exact right formula. Yes, I know I sound like a commercial but I am proud of how they turned out!
So you want to try them… well, be patient. They are now rolling out in convenience stores and in delis throughout New York City thanks to our partners at AriZona Beverages (they bottle and distribute for us — and they are great to work with!).
Perfect for the health conscious consumer who wants a delicate ready to drink beverage… just in time for summer and the hot weather (I think the hot weather is coming, isn't it??)…. enjoy.
Cindi Bigelow