Staying Gluten-Free with Bigelow Tea during Celiac Disease Awareness Month
Wednesday, 21 October 2009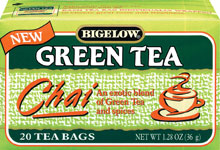 Good news for all the gluten-intolerant tea drinkers out there: with very few exceptions, Bigelow® teas are naturally gluten-free! Just check out the ingredients listed on the packaging or on our website – (www.bigelowtea.com) they will clearly indicate that the tea is either "GLUTEN FREE" or "NOT GLUTEN FREE."  So, if you want to savor the sweet spice of our family's signature tea, "Constant Comment"®, or sip a soothing cup of one of our newer flavors Green Tea Chai – you can rest assured that you'll enjoy a safe, healthy and tasty libation.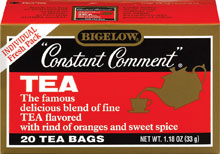 October is Celiac Disease Awareness Month.  For adults and children living with Celiac Disease (CD), a lifelong digestive disorder, gluten is the mortal enemy.  So, what is "gluten", exactly?  Well, it's actually a generic name for the storage proteins found in grains, specifically: wheat, barley, rye and oats.
When people with CD eat foods containing gluten, they suffer a toxic reaction to the immune system, causing damage to the small intestine which, in turn, hinders proper food absorption.  CD patients generally have weak immune systems and may experience sensitivity to other foods.  However, as long as they are monitored by their physician and carefully watch what they eat and drink, the disease can be managed without sacrificing quality of life.
At Bigelow Tea, we take "quality of life" very seriously, by providing you with a wonderful selection of teas to add to your gluten-free diet.  So, have a cuppa, and toast to your good health!