Who is Drinking Bigelow Tea Now…Our Newest Spokesperson Revealed!
Monday, 7 December 2009
It's announcement time!
As we mentioned last week, it's not often that we add another voice to our chorus of spokespeople at Bigelow Tea; this news is worth celebrating.  All week long, we posted daily clues on Twitter to help you guess this person's identity.
Many of you took part in the contest, and the grand prize winner, twitter.com/dkcholo (our winner preferred to use their twitter name only), won a Classic Tea Chest stocked with our favorite flavors.  Congratulations!
And now, on to the grand unveiling: just who IS drinking Bigelow Tea these days?
None other than The Great One himself… Wayne Gretzky!
(If you're wondering how Wayne earned the name "The Great One," it has a lot to do with winning 4 National Hockey League championships, 9 Hart Trophies (hockey's MVP award), 3 NHL All-Star Game MVPs and holding 60 different NHL records — including a record for holding the most records!)
A note from Cindi Bigelow about a recent visit from Wayne Gretzky:
What a day, Wayne Gretzky was here at Bigelow visiting all of us with his agent Darren Blake.  We are launching a line of Gretzky Green Teas in Canada and he called to see if he could come by for a visit.  "NO PROBLEM" we said.

All I can say, now that our visit is complete, Wayne Gretzky is the nicest person and so was Darren.  He is so humble, gentle, kind and thoughtful.  He could not have been more gracious to the employees.  I was worried about inundating him with requests for photos and autographs and had told the employees to hold back.  Well, their enthusiasm got the better of them (one of our guys was actually shaking when he came up to Wayne) and of course I had to say yes (how can you turn down a request for a photo when you see it means the world to them).  Well once I said yes to one, I had to allow all our employees to do the same.  Wayne could not have been nicer about the whole affair, like when the camera didn't work and we had to retake the photo several times for just one employee.

I did my best to walk him around to almost everyone so they could say hi.  We did a lovely tour of our facility and then a lunch.  He made us feel like he had all the time in the world.  What a wonderful human being, a true champ.  No wonder they call him the Great One.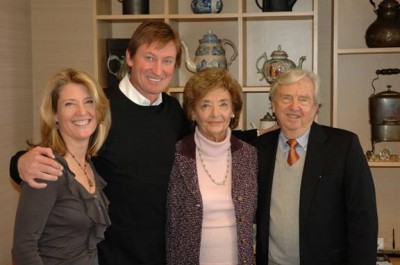 Cindi Bigelow, President, Wayne Gretzky, and Eunice and David C. Bigelow, Co-Chairs Bigelow Tea
And our VP of Sales & Marketing, Bob Kelly, has been saying all week:
Isn't this a great time for sports enthusiasts? The New York Yankees are World Champions for the 27th time, college and pro football are in full swing, college and pro hoops are underway and ice hockey is skating full-speed ahead. And now, to top it all off, The Great One…Wayne Gretzky is an avid drinker of Bigelow Green Tea!

So much so, in fact, that Wayne is now a spokesman for the Bigelow brand — along with Joe Torre, Terry Francona and Phil Simms. I spent a delightful day with Wayne in Westlake Village, CA, as our advertising team produced a brand new print ad and radio commercial that we'll be premiering shortly. It's been a remarkable journey with Joe, Phil, Terry, and now Wayne, as we've attracted sports enthusiasts across the continent and around the world to become loyal drinkers of Bigelow Green Tea. And the REALLY cold weather isn't even here yet!!
So thanks again to twitter.com/dkcholo and everyone else who took a guess in our contest. We're excited, and now we hope you are too. And just think that when the worst of winter arrives, now you can stay cozy knowing that you're drinking the same tea that's keeping The Great One warm and toasty all year long.