Bigelow Tea's Teabags and Wrappers Are Much More Than Just Packaging!
Tuesday, 9 February 2010
Believe it! Your Bigelow Tea teabags and the wrappers that envelop them have a significant impact on the aroma and taste of the tea you drink! While many people think wrappers and teabags are simply forms of packaging, at Bigelow Tea the bag and the foil wrapper are carefully crafted components, integral to the overall tea-drinking experience.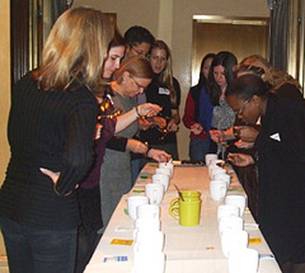 When tea lovers got together with Cindi Bigelow for a Tea Social in New York City in January, Cindi talked to her special tea guests about the often-overlooked teabag and its wrapper. Stephanie from The Tea Scoop was at the event, and afterward she shared a fantastic summary of Cindi's lesson on her blog. Check it out!
As part of the event, participants learned that wrappers (or barriers) are rated from 0 to 10, with a 10 keeping the teabags freshest. Bigelow Tea wrappers are rated a 10. Simply opening the wrapper of a Bigelow Tea bag and enjoying the aroma of what's inside gives consumers an idea of how important a wrapper can be. As Stephanie at the Tea Scoop happily noted:
"When I sniffed Bigelow, I found the strength of the aroma startling."
Cindi also asked the guests to tear open teabags and see what's inside. Some teas contain filler: tea dust, stems, and "prills" of flavoring and small leaves. Bigelow Tea, however, contains tea leaves, real ingredients (like orange rind in Constant Comment) and spices—never dust or prills. As Stephanie at The Tea Scoop put it, "I was completely blown away by the difference."  Check out Cindi's demonstration in this video:
[youtube]http://www.youtube.com/watch?v=S-T2XsjMNmc[/youtube]
Try this at home and see; smell and taste the difference a premium tea bag and wrapper makes. At Bigelow Tea, we take the quality of our ingredients and materials seriously, so we can provide the best tea-drinking experience possible!