The Great One Loves Olympic Hockey, and Bigelow Green Tea!
Friday, 19 February 2010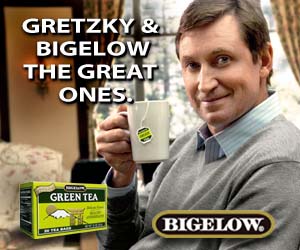 Wayne Gretzky is best known for his professional hockey prowess, but the Great One also played an historic role in Olympic Hockey with several Canadian National Hockey teams; first as a star player on the 1998 Olympics Team, and then as team manager for the 2002 and 2006 Olympic squads. And it was that 2002 team, with The Great One leading the charge, which struck Olympic Gold in Salt Lake City, winning Canada's first Olympic gold medal for Hockey in 50 years–to the day! Now Gretzky has made history again by lighting the 2010 Winter Olympic Flame in Vancouver, B.C.!
Gretzky has spent many hours, days, and years on the ice so it should be no surprise that he enjoys a brisk cup of hot Bigelow Green Tea! It was just this last December that Wayne Gretzky became Bigelow Tea's newest spokesperson, a member of the exclusive Bigelow Tea Family of superstar competitors from the sports world, that take great pleasure in their Bigelow Tea!
From his heady days as an Edmonton Oiler and four Stanley Cup championships, to his success with the Los Angeles Kings and ending his career as a proud New York Ranger, Gretzky has impressed hockey fans with his unmistakable and unique style. With his teams, he broke countless hockey records and set a new standard for the sport. As you follow the 2010 Olympic Hockey players, and all of your favorite athletes during these Winter Olympic Games, be sure to keep warm with (several) cups of Bigelow Tea, right along with the Great One!