Shop 'Til You Drop! The Bigelow Tea Spring/Summer 2010 Catalog has Arrived!
Tuesday, 27 April 2010
Bigelow Tea Spring/Summer 2010 Catalog
Don't you just love catalogs? It's always so fun and easy to flip through the pages and plan ahead for those upcoming birthdays. And, remember, Mother's Day is just around the corner (Sunday, May 9th)!  Well, Bigelow Tea has just launched the annual Spring/Summer Catalog and you won't be disappointed. Your teacup will runneth over when you check out some of the flavorful teas, savory treats and delightful gifts – all gussied up in spring pastels and happy summer colors.  Here's a little preview to whet your shopping appetite…
Mom.calm Mugs and Shoe Tea Bag Holders
It's all about Mom! These stylish over-sized mugs are made of porcelain and have matching shoe tea bag holders. They come in aqua, pink and taupe. Buy one or buy 'em all! They're guaranteed to make her smile. Love those polka dots!
Collapsible French Bread Basket with Tea
Bonjour! Blue and yellow are typical of the Provence region in France. This brightly colored cotton collapsible basket is perfect to hold some slices of fresh baguette, crackers or teas.  They come complete with 32 Bigelow tea bags and two ceramic daisy tea bag holders. A lovely "just because" gift for your friends and family.
Mary Engelbreit Collectible Tin with Tea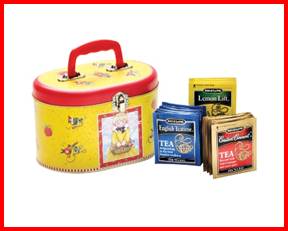 Your daughter or niece will love this cheerful Mary Engelbreit collectible tin, which comes with 48 Bigelow tea bags. So cute!
Simply Beautiful Jet Black Porcelain Teapot
And for the urban gentleman, this sleek jet black teapot, made of finely glazed porcelain, will look great in that gourmet kitchen in your loft apartment. This piece of useable art will match those stainless steel appliances and metropolitan lifestyle!
And that's just barely a sampling. So much to choose from…so little time…!
Shop Bigelow Tea and have a blast!