Constant Comment® Story Contest Winner Enjoys A Special Visit to the Charleston Tea Plantation!
Friday, 7 May 2010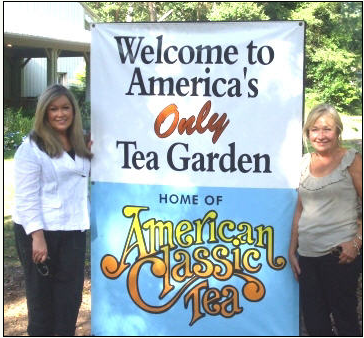 Constant Comment Story Winner Debora Dickinson (left) and dear friend, Helen (right)
"As far back as I can remember, my mother bought Bigelow's Constant Comment Tea…
We would sometimes sit out on our outside front porch in the summer when everything was rich and green and the morning doves were cooing, crickets were noisy and read a good book savoring our CC tea…"
A mother and daughter…tea and tenderness…they were the inspiration for Debora Dickinson's poignant Constant Comment® story, which won her a special trip for two to the exquisite home of American Classic Tea – the Charleston Tea Plantation, on historic Wadmalaw Island, South Carolina. Debora brought along her dear friend, Helen, and they enjoyed a three-night stay at the charming French Quarter Inn, in the heart of downtown Charleston. They sampled local restaurants and shops and soaked up the sites of historic Charleston. The icing on the cake was their personalized tour of the Charleston Tea Plantation, led by world-renowned tea taster and tea maker, Bill Hall.
The enchanting tea garden is so beautiful in the springtime, such an ideal venue for weddings, anniversaries or Mother's Day. For Debora, the trip was a celebration of her mother and the memories of moments they shared over cups of Constant Comment®. Her lovely story resonated with all of us at Bigelow Tea because Constant Comment® was created by Ruth Campbell Bigelow and her legacy has been passed down now for generations.
As a family owned company we proudly commemorate our 65th anniversary in business, and most especially, Bigelow Tea's founding mother. We remember all the times that we too, as a family, shared life and love over cups of Constant Comment®.  We're proud to provide a product that satisfies all of our customer's expectations, and plays such an important part in their lives.