"Tea for One"… Led Zeppelin's Robert Plant Sings About It and Lives By It!
Monday, 17 May 2010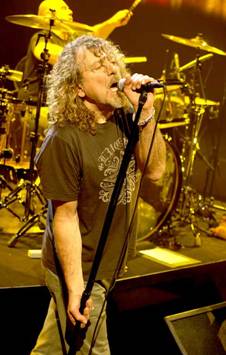 Photos Courtesy of Dailymail.co.uk
"How come twenty four hours, baby sometimes seem to slip into days?
…A minute seems like a lifetime, baby when I feel this way
Sittin, lookin at the clock, time moves so slow
I've been watchin for the hands to move
Until I just can't look no more"
~ "Tea for One"
(Led Zeppelin album, Presence)
Gone are the crazy days of the wild, over the top tours…Robert Plant, brilliant front man for the legendary rock band, Led Zeppelin, now favors simple and sublime pleasures of herbal tea as his back-stage libation of choice! This may come as a surprise to some, but not to us at Bigelow Tea. We know that a great cup of tea not only tastes delightful, but is also a great de-stressor loaded with anti-oxidants.
That being said, it is common knowledge that the British love their tea and this rockin' Brit, with the long golden locks and unmistakable voice, is no exception. In fact, all the old boys of Led Zeppelin seem to concur. In their 2007 reunion concert, their backstage rider was sweet and simple: tea, coffee, and an ironing board!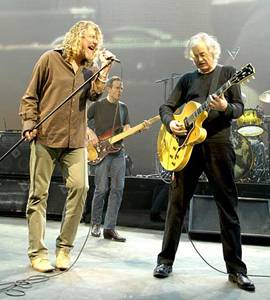 Robert Plant, John Paul Jones, Jimmy Page
Sadly for their fans, it's unlikely that Led Zeppelin will reunite again anytime soon. However, Robert Plant will be hitting the road this summer on a 12-city tour with new venture, Band of Joy. Put on the kettle!
Meanwhile, we'll leave you with some vintage Robert Plant and Jimmy Page, in mellow blues number "Tea for One." The lyrics were inspired by the loneliness that tour-weary Robert Plant experienced, clinging to hot mugs of tea and honey alone in his hotel room.  So it's true – Bigelow Tea rocks!