Tee Off with Bigelow Tea and Family Golf Month!
Friday, 23 July 2010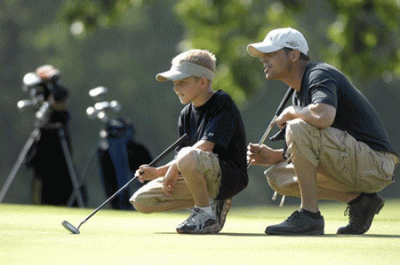 Photo via Iowapga.com
The great thing about summer is that school's out, the sun is shining and families can gather together to share in fun, outdoor activities.  So how about some golf? After all, July is Family Golf Month, sponsored each year by Play Golf America. Here at Bigelow Tea we encourage you to soak up the warm weather and take up a relaxing round at your local golf course. Don't know how to play? No worries! During the month, golf courses across the country will be offering a series of programs for you to learn and play golf as a family. Some of these programs include Bring Your Kids to the Golf Range, Family Golf Clinics, and Family Golf Play Days.
And, after you finish a few rounds, chill out with some thirst quenching Bigelow Iced Tea.  Mix and match your Bigelow flavors. After all, variety is the spice of life! (That and plenty of iced Bigelow Tea all summer long!)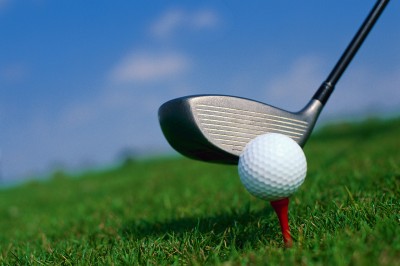 Photo via 410bridge.org
Tee off with Iced Tea!  Have fun during Family Golf Month with these Bigelow Tea Iced Tea specialties!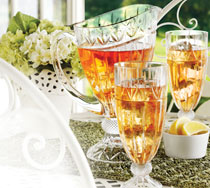 For Iced Tea by the Glass:
4 to 5 fl. oz. boiling water
1 Bigelow Tea  bag
Ice Cubes*
For Iced Tea by the Quart:
1 cups (8 fl. oz.) boiling water
6 Bigelow Tea bags
Ice Cubes*
Instructions:
By the Glass:
Pour 4 to 5 oz. boiling water over 1 tea bag.
Steep 3 to 5 minutes.
Sweeten to taste.
Pour into tall glass filled with ice…and enjoy.
By the Quart:
Place 6 tea bags in a one quart container.
Pour 1 cup (8 fl. oz.) boiling water over tea bag.
Steep 10 minutes.
Remove tea bag.
Add 3 cups (24 fl. oz.) cold water.
Serve over ice.*
Sweeten to taste.
* For fun, try combining some of your favorite Bigelow Tea flavors when you make iced tea.
Then, try freezing your iced tea concoction in an ice cube tray.
Use your ice tea cubes instead of regular ice cubes.
How refreshing – and flavorful!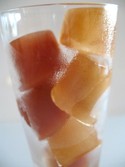 Cool Summer Tips:
For a hint of mint, try Iced Tea Cubes made with Bigelow Mint Medley or Plantation Mint.
For a splash of fruit, try Bigelow Red Raspberry, Perfect Peach, Orange & Spice,
Pomegranate Pizzazz or Raspberry Royale.
For a citrus sensation, try cubes made with Bigelow I Love Lemon or Lemon Lift.