The Simple Pleasures of the Tea Kettle and Bigelow Tea
Friday, 20 August 2010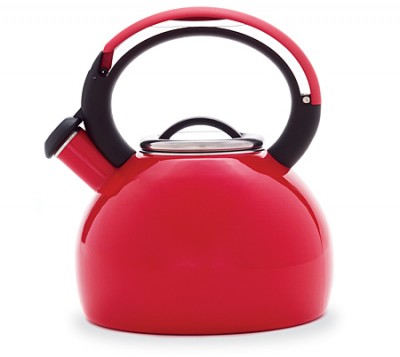 Touch and Pour Red Tea Kettle from Bigelow Tea
A tea kettle is a simple thing, really, just a vessel for getting water hot enough to turn tea bags into a glorious cup of tea. But the pleasure of listening to the water hissing and bubbling and anticipating that first sip of hot, fresh tea is undeniable. Yes, kettles can be used for other hot drinks, but we at Bigelow Tea are especially partial to a tea kettles first and primary function: making tea!
Though electric kettles are convenient, the traditional stovetop kettle continues to be the most popular type in the United States.  Sometimes the comfort of tradition is more important than speed! And each kettle has its advantages:  stainless steel kettles are efficient and, like glass and ceramic kettles, don't affect the taste of the water.  Cast iron kettles on the other hand, are heavier and more durable – and even put a little healthy iron into the tea!
Always run a little cold tap water for a few seconds to aerate kettle, and then fill; bring your water just to boiling, then pour into over your tea bag in the cup. (Using loose tea from Bigelow? Steeping time is a matter of personal taste, but generally, black teas steep the least amount and herbals the most.)
Kettles are not just functional they can make a statement. If we didn't care about appearances, any old pot on your stove would do, wouldn't it?  But the appearance matters: beauty and style can also be soothing, just as the tradition of a cup of hot tea is comforting. That is why in addition to our many delicious teas, Bigelow Tea also provides both pretty and practical kettles . No matter what your style, we want you to be soothed and satisfied with your great tea and great tea kettle!