The 23rd Annual Bigelow Tea Community Challenge is Coming: Run, Sun and Fun – All for a Great Cause!
Wednesday, 1 September 2010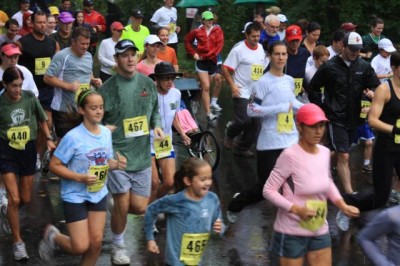 The Bigelow Tea Community Challenge, 2009
It's that time of year again when summer fun begins to come to an end, fall begins, and there's nothing like a nice hot cup of Bigelow Tea … after running a 5K road race!? Yes, actually! Bigelow Tea is excited to announce our 23rd annual Bigelow Tea Community Challenge, taking place on September 26th in Southport, Connecticut at Wakeman Boys and Girls Club.
The event is always a crowd pleaser attracting hundreds of men, women and children each year. It challenges our community to donate to a good cause, while still having a lot fun. Proceeds from the Community Challenge go to local charities, such as the Connecticut Food Bank, the Bridgeport Rescue Mission, and the Mercy Learning Center among others. Giving back to the community is something Bigelow Tea is always proud to do, and we're thrilled for the opportunity!
Participants in the Community Challenge have choices: the 5K run, the two-mile fitness walk, or the Kids' Fun Run. And they are welcome to enjoy the complimentary food and drink and the other activities that are offered! In addition to donating to a good cause and getting your morning exercise,  the grand prize raffle winner this year will win two round trip tickets to anywhere in the United States, even Bermuda or the Caribbean!
So grab the kids and the whole family, and head down to Wakeman Boys and Girls Club this September 26th. Have some real fun while helping those who really need it!  And in the meantime, get inspired with this video from one of our previous Community Challenges:
[youtube]http://www.youtube.com/watch?v=Zaaf6WAlsxs[/youtube]