Setting Sail for Columbus Day
Monday, 11 October 2010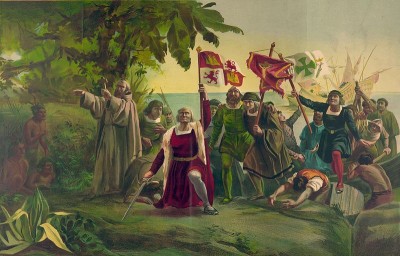 Currier & Ives painting first landing of Columbus on the shores of the New World
Image via Wikimedia Commons
As cooler temps prevail, leaves change and we dig for our favorite warm fleece, here at Bigelow Tea we're raising our cup, (and maybe a Constant Comment biscotti?) to Christopher Columbus today Monday, October 11th, Columbus Day.
Columbus Day is celebrated throughout the Americas to commemorate the arrival of Christopher Columbus to the New World in 1492. In much of Latin America it's known as Día de la Raza; in the Bahamas it's Discovery Day and look for Hispanic Day in Spain.
While some debate still surrounds Columbus (many contend you can't "discover" occupied lands) there is no question that Columbus's "Enterprise of the Indies" opened up great opportunities for the subsequent Euro/Americas cultural surge. History of the Americas prior to his arrival is still referred to as "Pre-Columbian."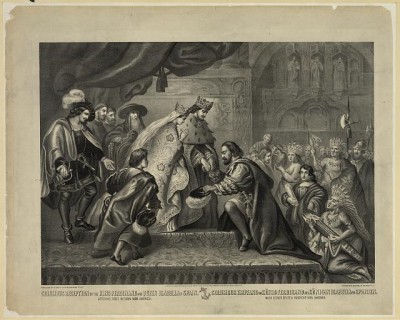 Columbus before King Ferdinand and Queen Isabella of Spain after his first return from America
Image via Library of Congress
Interesting that it took 300 plus years before we began celebrating officially (busy, busy, busy with all that exploration/colonization/revolution)! In 1937, FDR officially set aside October 12 as the United States holiday, and in 1971, Congress moved it to the second Monday in October. Today, in New York City, the biggest and most famous Columbus Day parade is a major event, and many Italian-Americans also observe the day as a special celebration of their proud heritage.
Spectators cheer during the Columbus Day parade in New York City
Image via Wikimedia Commons
So what adventure will you embrace on the holiday? We highly recommend exploring a different flavor of Bigelow Tea, grabbing it to go (hot or cold depending on your weather) and sipping it while sailing off to your local parade or festivities. Pack a lunch (don't forget the Constant Comment biscotti!) and revel in the history, the vision and the courage that was Columbus, as he helped changed the course of mankind.