Bigelow Tea Unveils The Fall/Winter Catalog Online and Off!
Monday, 25 October 2010
Leaves are wafting about the yard and the sandals and shorts have been retired, but you haven't a care, nestled in your chair with a steaming cup of your favorite Bigelow Tea, while thumbing through the warm offerings of Bigelow Tea's Fall/Winter 2010 Catalog.
Inside the red bows and bright colors of this instant mailbox (and online) cheer, Bigelow Tea presents hand-picked gift ideas for the tea lovers on your shopping list. Designed to delight both sophisticated and whimsical tastes, this is a catalog that begs to have the corners folded, to note which loved ones on your list on your list will be getting which wonderful gifts this year. Let's peek.
Like the Super Deluxe Gift Basket. It's "the best" for Mom, Auntie or the gourmet on your list. Expect great returns in 2011 as this overstuffed plaid basket (did we mention 32 Constant Comment® tea bags?) surely finds a place in your home decor.
Folded, ribboned and ready to give, the crimson Keepsake Window Boxes are a thing of beauty. Conjure you inner party planner and use them as decoration, stocking stuffers or party favors!
The Capresso PerfecTea Cordless Kettle
The high-style aficionados in your world will worship you when this hits their doorstep: the Capresso PerfecTea Cordless Water Kettle is a "must have." It brings the know-how too, with five temperature settings, auto shut-off and dry boil protection for the perfect cup, always.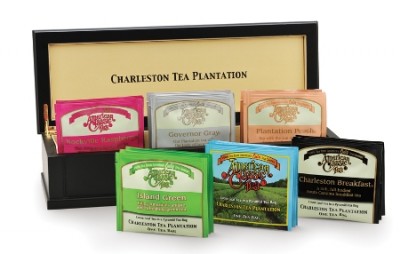 The Charleston Tea Plantation Tea Chest
And it's always a good time to celebrate the only working Tea Garden in the continental United States – with the Charleston Tea Plantation Tea Chest. This classic matte black wooden box keepsake offers up a delicious blend of 6 American Classic Tea® flavors.
So now you're good to go, all ready to delight your friends and family with Bigelow Tea's best. Time for a nap now that your holiday shopping is done!