Got Pumpkins?
Friday, 29 October 2010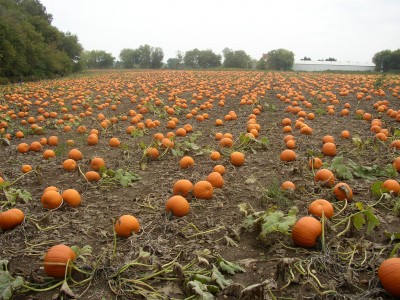 Photo via Meadowbrookfun.com
This is the time of year when pumpkins rule!  In homes across the nation, families put on their creative hats to carve out the perfect Jack-o'-lantern in celebration of Halloween.  Amidst the flurry of excitement, some of us forget that pumpkins are not simply a decoration – they're actually a delicious and nutritious fruit! In fact, they could be considered our national fruit. After all, didn't they grace the tables of the pilgrims and Indians at the first Thanksgiving feast, circa 1620? Centuries later, they continue to be the pièce-de-résistance in Thanksgiving menus throughout the nation.
Full of antioxidants such as beta-carotene (that's where the vibrant orange color comes from), pumpkins are a healthy source of vitamins and its seeds are even more nutritious than its fruit!  A favorite health food snack, pumpkin seeds contain a plethora of vitamins such as zinc, iron and phosphorous, as well as a high concentration of protein – all important for sustaining our health!
As for sustainability (that's Sustainabili-TEA in Bigelow Tea speak), pumpkins lead the pack as one of the easiest fruits to grow and harvest.  Although they flourish in warmer climates, they are hardy and can grow almost anywhere. So, unleash your inner farmer and give it a go…visit your local pumpkin farm and watch how the pros do it. They might even share some family pumpkin recipes with you!
As you prepare your sustainable table in celebration of this beautiful season, try out some of Bigelow Tea's favorite pumpkin recipes, like our Pumpkin Spice Waffles with Walnuts.  As a perfect complement to your meal, sip some flavorful Bigelow Pumpkin Spice Tea. And, remember to give thanks for that big 'ol pumpkin!  Happy autumn!
(Pumpkin patch photo via Meadowbrookfun.com)