Teatime: The Perfect Time For Sharing Family Stories
Tuesday, 16 November 2010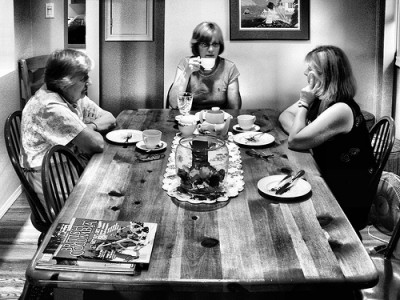 Gathering to tell stories and sharing a cup of tea go hand in hand. That's why Bigelow Tea loves to celebrate National Family Stories Month.
In so many cultures, teatime is also story time. In Ireland, families gather in front of fires with tea to share stories and songs about their history. In China, tea is an integral part of many family celebrations. And in England, tea breaks are the perfect time to catch up on the latest family news.
Storytelling is also important here in our Bigelow Tea family. On this very blog we share the stories of our valued customers and employees, who are truly like family to us. As a family-owned and family-operated business, we are also always proud to share our family's story, which began with Ruth Campbell Bigelow offering her orange spiced tea to friends. They couldn't stop commenting on it … and of course that's when Constant Comment was born!
This month we encourage everyone to take time to brew a cup of tea and sit for a while with a beloved family member. Share some family stories along with your tea. You'll make moments to cherish for a long time to come!
Photo via Flickr.com