Bigelow Tea Looks at Teatime in Texas!
Friday, 14 January 2011
Texans sure do love their tea! We at Bigelow Tea are always pleasantly surprised to hear from so many folks in Texas who are big fans of our tasty teas. They often write to let us know how much they like them iced (and sweet)!
It's probably no surprise the Texans are big tea fans, since everything is big in the Lone Star State. Big hats, big appetites and—believe it or not—the world's biggest teapot! Yes, it's true! According to sources, Martha's Bloomers in Navasota, Texas is home to the world's largest teapot. (Incidentally, we also found some giant teacups being used by a photographer in Forth Worth. Check out her gorgeous photos!)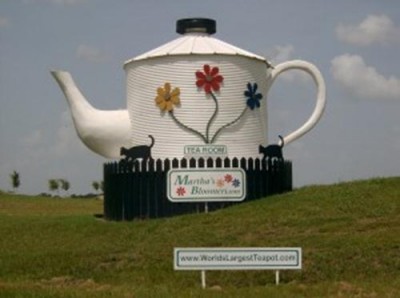 And of course oil is sometimes known as "Texas tea." We know how important oil is to the livelihoods of many Texans, and we can only hope that fresh brewed tea—Bigelow in particular!—is similarly important to our favorite Texans.
So it's a big thanks to all our fans and customers in Texas! May you enjoy your morning cup of Lemon Lift as much as we enjoy hearing from y'all!