Bigelow Tea Warms Up Winter With National Soup Month
Friday, 21 January 2011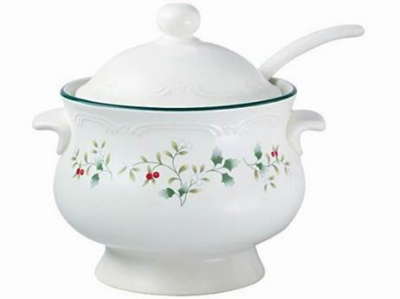 We've already seen plenty of robust winter weather, and there's plenty more to come. Not to worry though, because (along with another hot cup of Bigelow Tea) we have the perfect antidote for what chills you, and that's warming up in a cozy kitchen beside a steamy bowl of soup. That's reason enough to celebrate National Soup Month this January!
Whether it's a hearty slow-cooked offering or an old favorite tucked away in the family cookbook, soup may just be the perfect food.  From A (Ajiaco) to Z (Zurek), soup is the ultimate "cooking canvas." Firing up the soup pot to share with family and friends is like a "Welcome" sign in your home, saying sit and enjoy. And for some adventurous socializing, you can stage soup tastings, progressive soup dinners or "soup crawls" around local restaurants and pubs, all serving their specialties.
To help heat up your January, here are a couple of excellent soup recipes from Bigelow Tea that, of course, incorporate our delicious teas:  the enticing Chicken Noodle Soup with Ginger and the sublime Moroccan Lentil Stew with Cinnamon. Like many of our Bigelow Teas and special recipes, the comforts and health benefits of soup can keep you cooking all season long!
Enjoy!
Chicken Noodle Soup with Ginger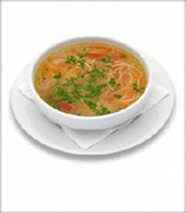 Ingredients:
2 cups hot water
3 Bigelow® Ginger SnappishTM tea bags
1 cooked, skinless, boneless chicken breast ( approx. ½ pound)
4 cups low-sodium chicken broth
2 cloves garlic, finely minced
2 medium carrots, thinly sliced (½ cup)
½ cup dried fine egg noodles
1 teaspoon salt
Freshly ground pepper
1/3 cup fresh parsley, chopped
Yield: Serves 4-6
Instructions:
Combine 2 cups of hot water and 3 Bigelow® Ginger SnappishTM tea bags and allow to steep for approximately 5 minutes.
Meanwhile, using 2 forks, shred the cooked chicken breast. Use one fork to anchor the chicken breast to the cutting board, while using the other fork to "scrape" the chicken into shreds. This is easily achieved if you shred along the grain of the chicken breast. Alternately, you may simply cut the breast into bite-sized pieces.
In a medium saucepan or soup pot, combine the chicken broth and the tea over high heat. Add the garlic, carrots, shredded chicken and noodles. Bring to a boil, then reduce to a simmer.
Simmer for approximately 7 to 10 minutes, or until carrots are tender and noodles are cooked.
Add salt and pepper to taste. Add chopped parsley and adjust seasonings as necessary.
Ladle into bowls and serve hot.
Note: To make this soup ahead of time, proceed as directed but omit the noodles and the fresh parsley. Store in refrigerator for up to 2 days, or freezer for up to 2 months. When ready to serve, pour into a medium saucepan, add noodles, bring to a boil, then reduce heat and simmer until noodles are cooked and soup is heated through. Adjust seasonings, add fresh parsley and serve.
Nutritional Information:
Serving size: 1 ½ cups
Calories 150
Total Fat 3g
Saturated Fat 1g
Trans Fat 0g
Cholesterol 42mg
Sodium 700mg
Carbohydrates 11g
Dietary Fiber 1g
Sugars 1g
Protein 20g
Moroccan Lentil Stew with Cinnamon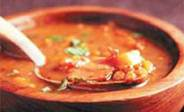 Ingredients:
4 cups hot water
4 Bigelow® Cinnamon Stick® tea bags
½ lb. dried brown lentils, rinsed well
2 tablespoons olive oil
1 medium onion, chopped
2 cloves garlic, chopped
3 lbs chicken, cut into bite-sized pieces
1 – 14.5 oz. can diced tomatoes in sauce
1 teaspoon salt
Freshly ground black pepper
½ cup dry roasted almonds, roughly chopped
3 tablespoon Italian flat leaf parsley, chopped
Yield: Serves 6
Instructions:
Combine four cups hot water and four Cinnamon Stick® tea bags and allow to steep for approximately 5-7 minutes.
Add tea and lentils to a large stew pot. Bring to a boil, cover and simmer for approximately 20 minutes, or until lentils are tender. Remove to a large bowl and set aside.
In the same pot, add olive oil and saute onions and garlic until softened. Add cut-up chicken and cook until cooked through and no longer pink inside (about 10 minutes).
Add diced tomatoes and cooked lentils to the pan and heat through. Season with salt and pepper.
Add chopped almonds and parsley and serve.
Nutritional Information:
Per Serving:
Calories 381
Total Fat 15g
Saturated Fat 2g
Trans Fat 0g
Protein 45g
Carbohydrates 18g
Fiber 8g
Cholesterol 98mg
Sodium 561mg