Bigelow Tea's Recipe for Mussels with Wine Sauce Is Delightful!
Wednesday, 26 January 2011
Now that the holiday leftovers are all just a memory, why not try something completely different? And, with Valentine's Day just around the corner, you might consider sharing our mussels with wine sauce with your significant other.
If this piques your interest, then Bigelow Tea has the perfect recipe for you. Picture it: candlelight, a little mood music playing in the background, a lovely bottle of Chardonnay chilling nearby and a main course of our mouthwatering mussels with a Bigelow Lemon Lift wine sauce!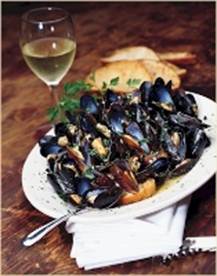 Mussels with Bigelow Lemon Lift Wine Sauce
Ingredients:
1 cup dry white wine
6 Bigelow Lemon Lift Tea bags
½ cup of extra virgin olive oil
2 teaspoons butter
1 large shallot, minced
6 cloves garlic, minced
½ cup of celery, chopped
1 teaspoon red pepper flakes
4 pounds of mussels, cleaned, scrubbed & debearded
A pinch of freshly ground black pepper
A pinch of salt
1 cup chicken broth
Linguine
Yield: Serves  4
Instructions:
In a small saucepan, combine wine and tea bags until bubbles are visible. Steep for 6 minutes. Set aside.
Add the olive oil and butter into a large, deep pot.  Add shallots, garlic, celery, and red pepper flakes and sauté until translucent in color.
Stir in the mussels. Give the mussels a toss with the sautéed mixture.  Add tea/wine mixture, ground pepper, salt and chicken broth.  Cover and simmer until mussels open (discard any mussels that do not open).
Serve as is, or over a plate of linguine.
Photo (top) via Herdaily.com.