Jack Black Drinks His Earl Grey in Gulliver's Travels!
Monday, 28 February 2011
Bigelow Tea loves movies about a classic tale with a contemporary twist. When Jonathan Swift's classic satire, Gulliver's Travels was re-made with funnyman Jack Black (quite the contemporary satirist in his own right) cast as the leading man, we were impressed. And to make it even better, one of the film's highlights is a really funny tea party!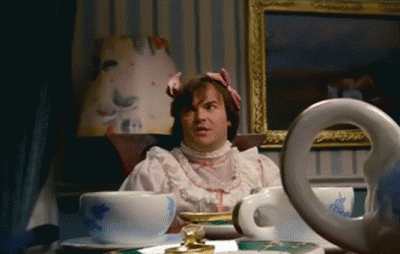 This inspired tea party takes place on the Isle of Brobdingnag where Black's character, Lemuel Gulliver, finds himself miniaturized, and, while roaming amongst giants he is picked up by a young girl who is resolute that he enjoys tea in her miniature playhouse.
The modern day Gulliver character obviously considers the classic formal tradition of taking tea as not for him….however, with a little "convincing," Jack is soon enthusiastically pouring and drinking his tea! At Bigelow Tea we certainly hope Jack Black continues to enjoy his new found love of tea, regardless of the size or threats of his host!
image via 4.bp.blogspot.com