Bigelow Tea Encourages You to Color Your Plate During National Nutrition Month!
Wednesday, 16 March 2011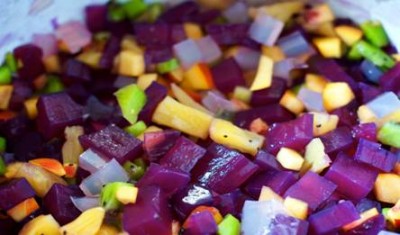 March is National Nutrition Month and Bigelow Tea is eager to help spread the word!  National Nutrition Month is an educational nutrition campaign sponsored annually by the American Dietetic Association, and this year's theme is "Eat Right with Color."
Eating nutritious foods full of vitamins, minerals and other important nutrients is an easy way to increase your overall health. And choosing colorful fruits and vegetables is one way to make sure your body gets the nutrition it needs. Whether it's orange apricots, purple eggplants or deep-green leaves of kale, a colorful plate is a healthy plate!
And what better beverage to have alongside your salad than a cup of tea? At Bigelow Tea we know that you are what you eat … and what you drink! The good news is that the elements found in tea can be part of a healthy diet. Tea in general is full of flavonoids, which give tea its spectacular antioxidant capabilities. In addition, some of our teas, like Pomegranate Pizzazz herbal tea, contain real fruit juice, making them even more delicious, colorful and healthy. Likewise, our newest line of teas, Herb Plus, are full of ingredients that add nutritional support to your diet.
We hope you will all make the effort to eat nutritious and colorful foods this month … and that you'll enjoy them more with your favorite Bigelow Tea!
Image by Dobrych via Flickr.com