Delightful New Bigelow Tea gifts … Just In Time For Mother's Day!
Wednesday, 27 April 2011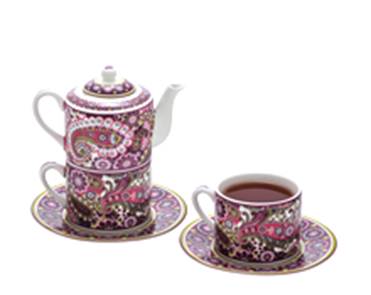 Vera Bradley Berry Tea for One
Nothing says Mother's Day like classic paisley etched in a fine porcelain tea service for one…for that quiet "me" time that every mom craves! Packaged in a beautiful gift box with matching pattern and rich, deep purple tones, this gift is guaranteed to make her smile.  And this is just the first gift selection of many… Bigelow Tea has just introduced some new springtime tea gifts, lovingly prepared for that special someone in mind.  And, since we're all watching our budget these days, we made sure to price these gifts under $45!
Luxury doesn't mean breaking the bank when you shop at Bigelow Tea. Try our Luxury Tea Assortment – its large, beautifully crafted willow basket comes fully loaded with two Blue Jardin ceramic mugs, 2 honey spoons,chocolate chip cookies, and 80 individually-wrapped Bigelow tea bags in ten of our most popular flavors.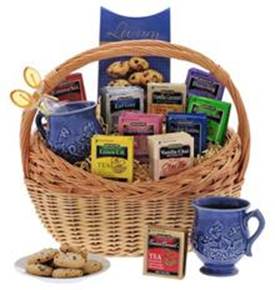 Luxury Tea Assortment
And, for those of you moms dealing with graduation mania this May, take a stroll in the garden and spend some mellow moments trying out your favorite caffeine-free herb tea from a selection of 80 tea bags, nestled in an oval willow basket which also contains two colorful stoneware mugs, two honey spoons and some yummy lemon ginger cookies.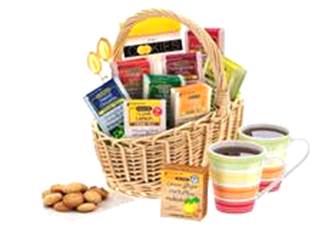 Mellow Moments
But why wait until Mother's Day?  Our Tea-licious basket of goodies is overflowing with 104 tea bags (black,green, herb, and decaffeinated)!  Friends and family can have a tea sampling party … keep that kettle boiling!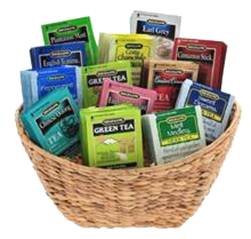 Tea-licious Basket
If you love to shop and have a hankering for some fabulous tea and treats, you'll find a treasure trove of goodies to choose from at www.bigelowtea.com.  Enjoy!