Bigelow Tea Packaging Makes Storage a Cinch!
Friday, 3 June 2011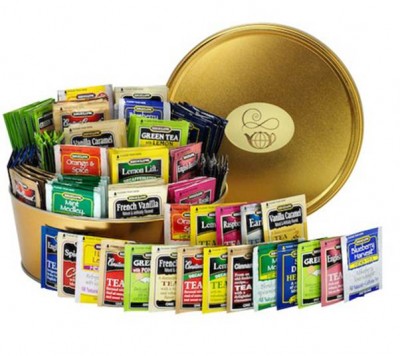 Among the many things to love about our Bigelow Tea varieties—in addition to the great taste and reported health benefits—are their freshness and full-bodied tea flavor! That's why we put as much effort into making our packaging as we do our teas, ensuring that every cup you brew will be perfect. No need to purchase special containers for storing your Bigelow Teas!
That said, it's helpful to understand the principles behind the packaging. It is the prolonged exposure to air, light and moisture that will diminish the potency of your tea and flavorings. So each Bigelow tea bag is individually wrapped in a foil pouch to seal in all the wonderful flavor and freshness. The tea bags themselves are of the highest quality—rated a 10 on a 1-10 scale for ability to maintain freshness. And our amazing loose teas come in special tins that protect the delicate tea leaves and flavorings. Either way, when you tear open a pouch or pop the lid, you get a burst of intense tea aroma that you know will create a deeply flavorful cup of tea!
Of course, the quality of the tea going into our bags and tins is just as important. Check out this video, where Bigelow Tea President Cindi Bigelow demonstrates how you can actually see the difference between our teas and those of lesser quality. You'll be amazed:
[youtube]http://www.youtube.com/watch?v=S-T2XsjMNmc&feature=youtu.be[/youtube]
Storage? No problem! Simply place the box of Bigelow Tea foil pouches or tin of loose tea in a cupboard away from heat and light. And never put tea in the refrigerator or freezer. The most important thing though, is to make sure that wherever you store your tea, it's within easy reach so you can brew up a delicious cup anytime!