Get Fit For Summer with a Little Help from Some Bigelow Green Tea!
Wednesday, 22 June 2011
Fitness is a passion of ours at Bigelow Tea. It's never too late to get fit.  And there's something special about summer that can inspire us to put on our most comfortable pair of sneakers and go out for a walk, run, cycle, or swim!  Maybe you're dreaming about that bikini that fit you … once upon a time! Or perhaps you just want to regain or maintain that feeling of good health and well-being.  Whatever the reason,  get out and enjoy that sunshine!
Of course, it's important to remember that you can't get fit through exercise alone. Your diet plays a major role in maintaining a healthy lifestyle. Diet and exercise are kind of like Bigelow Tea and water – you can't have one without the other!
Along with nutritious food, portion control and regular eating hours, there are the drinks that hydrate you while providing you with loads of antioxidants, like green tea!  Research studies have extolled the virtues of dailygreen tea consumption to help maintain a fit and healthy body.  And at Bigelow Tea we wholeheartedly concur! In fact, both caffeine and the polyphenol, EGCg, are reported to be critical fat-burning components – both found in green tea!
Yet, despite all our good intentions, we sometimes need variety … and Bigelow Tea eliminates any boredom factor with our fantastic selection of green teas that come in a cornucopia of flavors and combinations, like Bigelow Green Tea with Mango, Bigelow Green Tea with Lemon, Bigelow Green Tea with Pomegranate and many more!
So stay fit this summer and be sure to do it with your favorite Bigelow Green Tea!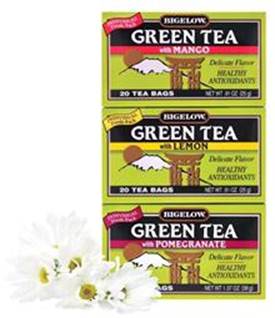 Image (top) via Weissesroessl.at.