Bigelow Tea Loves that Coconut Water!
Wednesday, 20 July 2011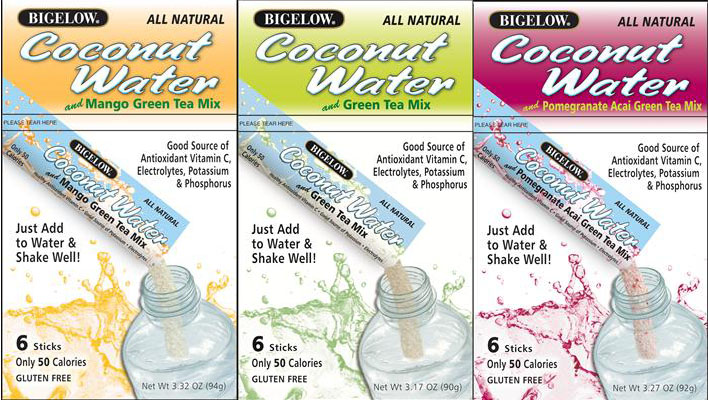 At Bigelow Tea we take our beverages seriously and our tradition of producing high-quality teas is a source of family pride. Since Ruth Campbell Bigelow created Constant Comment in her kitchen in 1945, we have introduced many new teas to the Bigelow Tea lineup; but now in the summer of 2011, Bigelow Tea is thrilled about its newest tea creation that's making waves: Coconut Water! We've combined the natural hydrating benefits of coconut water with the refreshing taste and healthful qualities of green tea to make Coconut Water with Green Tea Mix Sticks. They come in three amazing flavors: Green Tea, Mango Green Tea and Pomegranate Acai Green Tea and while they may not be in every store yet, you can certainly buy them online at www.bigelowtea.com!
Not only are these mixes delicious and convenient—add to a bottle of water on the run or blend into a drink at home—but they're also healthy, hydrating and all natural! Kids will love them too.  Want to know more? Cindi Bigelow created this short video to share with you all the information and benefits of Bigelow Coconut Water with Green Tea! Have fun watching!
[youtube]http://www.youtube.com/watch?v=Rm7C_tJQI7Y[/youtube]