What A Wonderful Surprise!
Wednesday, 7 September 2011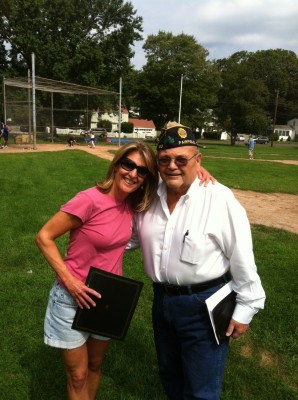 What a wonderful surprise that happened to me the other day.  I was at our company picnic at a local park, and having a ball playing softball when a man in a uniform started asking for my whereabouts.  At first I got a little nervous: did we not get our permit to use the park, did a resident in town possibly complain about our hooting and hollering?
So I ran off the field and met Commander Thomas F. Quinn.
"Cindi Bigelow?" he said.
"Yes sir?" was my response.
He extended a hand and said he represented Lt. Owen Fish Memorial, Post 143 Stratfield, CT.  He then handed me a certificate of appreciation for our distribution of our Tea for the Troops tea to the soldiers in our area-whether at Vet hospitals or local vet charities.  He wanted to let me know that all the local vets noticed our efforts for wanting to say thank you for their dedication to this country and this was his way of saying thank you back.
Well that was not what I was expecting to take place at our picnic but it really did make me smile….."thank you sir, it is our pleasure to support your efforts in any way we can!"  Wow that was nice!!!
Cindi Bigelow