A Delicious Indulgence From Bigelow Tea!
Tuesday, 14 February 2012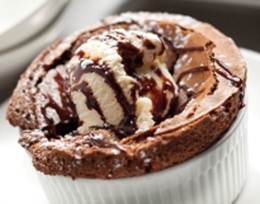 Valentine's Day has long been a day of love and romance, usually with the traditional Valentines card and candy for that special someone. At Bigelow Tea, we hope you'll celebrate the day by showing allthose who are special to you, not only your spouse or swee-TEA, how much you care!
One distinctive, effortless—only 10 minutes of prep time!—and delicious way to do this is to make our delightful Individual Fudgy Brownies. It may not look like the conventional brownie bite, but rest-assured, you won't be missing any flavor in this decadent indulgence.  Everyone will love this tea-infused treat!
Ingredients:
Tea Concentrate:
10 bags Bigelow Vanilla Caramel Tea
1 cup boiling water
2 tablespoons butter, softened, for custard cups
Brownie:
1 cup firmly packed brown sugar
2 eggs
3 tablespoons tea concentrate
½ teaspoon real vanilla extract
1/3 cup cocoa powder
¼ cup oat flour
6 tablespoons butter, melted
Whipped cream, optional
Ice cream, optional
Fresh mixed berries, optional
Yield: 8 servings
Prep Time: 10 minute
Baking Time: 48 minutes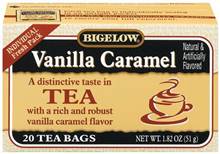 Instructions:
Place tea bags in a 1-cup glass measure.  Add water.  Steep tea for 10 minutes.
Squeeze all liquid from tea bags into cup.  Discard tea bags.  (About ½ cup tea concentrate.)
Heat oven to 325 F.  Lightly butter 8 (1/2 cup) oven safe custard cups; set aside.
In medium mixer bowl place brown sugar and eggs.  Beat at high speed, scraping bowl often, until thick and light yellow (5 to 6 minutes).
Add 3 tablespoons tea concentrate and vanilla.  Continue beating until well mixed (1 to 2 minutes).
In small bowl stir together cocoa powder and oat flour.  Add cocoa mixture to tea mixture and mix only until combined.
Add melted butter.  Mix only until combined.
Pour brownie mixture into 8 prepared ½ cup custard cups.  Place the custard cups in a 13 x 9-inch baking pan and fill pan with hot tap water until water reaches ½ way up the custard cup.  DO NOT get water in the custard cups.
Carefully place pan in oven.  Bake for 45 to 48 minutes.  A wooden pick should be slightly wet.  Remove from oven; cool.
Serve with whipped cream, ice cream, or fresh berries.