Bigelow Tea Looks At The Tea-Fueled World of Ozzy Osbourne
Monday, 2 April 2012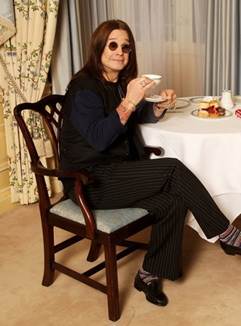 When Bigelow Tea hears the name of legendary rocker Ozzy Osbourne, we think of rock and roll … and tea! Ozzy, born a proper Brit in Birmingham, England, stays true to his roots and selects tea as the beverage he enjoys before all his gigs.  "It's not very 'rock and roll,' but it's like a magic potion to me," he has said.  We at Bigelow Tea think it is actually is very rock-n-roll … just look at the company he's in: the Beatles, The Who, and Eric Clapton to name a few. They all love their tea!
Tea appreciation is not only a part of Ozzy's pre-concert routine, but it's also key in his personal life. His home with celebrity wife Sharon is adorned and decorated with a "profusion of tea sets."  We appreciate the calming and comforting effect tea-infused surroundings can have on such an active family!
Ozzy has even sipped tea in the great halls of power, when he was invited to the White House by President George W. Bush. Ozzy said at the time, "I thought I'd be on a wanted poster on the walls, not invited to [The White House] for tea."  So what kind of tea did the President serve to an edgy rocker like Ozzy Osbourne?  A strong statement like Earl Grey? English Teatime?  Or maybe they dialed it back a bit with a decaffeinated version of one of their favorites? Your guess is as good as ours, but we would've loved to have been a fly on the wall during that tea party!
Ozzy, who also has a star on the Hollywood Walk of Fame, seems devoted to his tea… proving once again that tea fuels the lives of the greatest musicians on the planet!
Photo by David Hogan/Getty Images Europe via Zimbio