It's All About Family For Bigelow Tea's Fan of The Month: Kim Anderson
Friday, 2 November 2012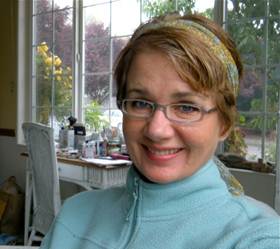 With three beautiful daughters, a blog and a talent for creating art, Kim Anderson is someone Bigelow Tea was thrilled to meet! A tea lover—who even wrote a poem about "Constant Comment"® tea on her Art in Red Wagons blog—Kim was an easy choice for our latest Fan of the Month.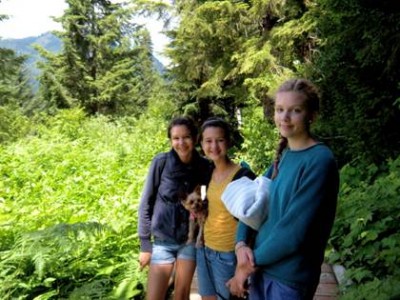 Kim is an extremely talented artist, a wife and a mother. We know it's hard to juggle "it all" but Kim seems to do it with ease and grace. Maybe it's all that tea she sips! When asked about a typical day, said "I'm up EARLY to get the kiddos ready for school. Then it's time to create: working on my art, posting on my blog, adding new things to my Etsy shop … it's like having a job—but it's really playtime for me—doing what I love! It's a very full and wonderful day!"
To our delight, Kim posted a photograph (below) of an adorable mug and her favorite tea, "Constant Comment." Would you believe it was the very first tea she ever tried as a child? Kim tells us that "Constant Comment" was "my Grandmother's favorite tea and it was she who poured my first cup. We would take time to have real tea in real china cups with real cream and little square sugar cubes. She always let me put a sugar cube in my pocket for later." It's stories like that that cause us to smile … and to feel the urge to pour another cup of tea.
A busy bee indeed, Kim still knows how to take time for herself. "I so enjoy peace and quiet! Those first few minutes in the morning before the whole house wakes up, I have my hot tea and the whole day stretched out before me. Ahhhhh … ." It sounds like her grandmother taught her well.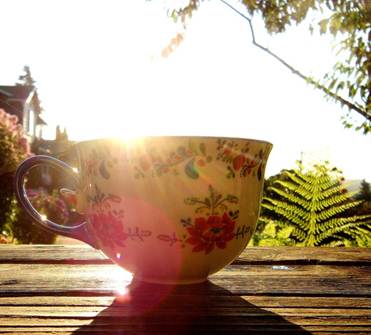 Thank you, Kim, for sharing your world and your wonderful tea heritage! We hope you continue to pass on the tradition of tea drinking you learned from your grandmother to your daughters … and we hope you still carry a sugar cube in your pocket to add to the sweetness of life!
Interested in being a featured fan yourself? Email us at blogging@bigelowteablog.com to learn more!
Images via Kim Anderson