On Thanksgiving, Share A Recipe With Your Family Featuring Bigelow Tea
Monday, 19 November 2012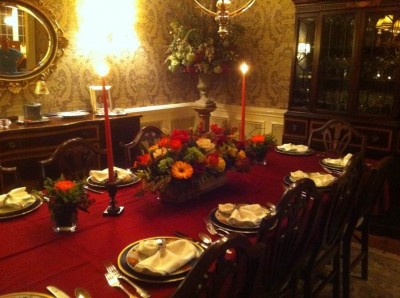 Cindi Bigelow's Thanksgiving Day Table
At Bigelow Tea two of our favorite things are food and family. That's what makes Thanksgiving one of our most beloved days of the year! On that annual day of giving thanks, people all over the country take time to gather with loved ones and share traditional dishes like Grandma's stuffing and Aunt Susie's cranberry sauce. If your family and friends are not too resistant to change, you just might want to try one of the following Bigelow Tea recipes … each made with tea as an ingredient!
We think our Orange & Spice Pureed Carrots will add both color and flavor to your Thanksgiving table, and we know that our Creamy Custard Rice Pudding Made with Bigelow Pumpkin Spice Tea will have everyone begging for more. And our Roasted Turkey with Constant Comment® Glaze is one way to take the traditional bird to a whole new level. It'll all taste even better with a perfect cup of tea! So, enjoy the recipes … and have a warm and wonderful Thanksgiving!
Roasted Turkey with "Constant Comment"® Glaze
Ingredients:
Glaze:
12 Bigelow® Constant Comment® Tea Bags
1 cup (250mL) boiling water
2/3 cup (160mL) brown sugar
2 tablespoons (30mL) butter
½ cup (125mL) cranberry juice
Turkey and Gravy:
1 10-15 pound (5-7.5g) turkey (thawed if previously frozen)
1 lemon, cut into four pieces
1 onion, peeled and cut into four pieces
1 cup (250mL) chicken stock
2 tablespoons (30mL) cornstarch
Salt and pepper to taste
Yield: Serves 8 – Prep Time: 20 min. – Cook Time: 10-12 min. per pound –unstuffed
Instructions:
Preheat the oven to 350º.
Steep tea bags in 1 cup boiling water for 5 minutes. Squeeze excess liquid out of tea bags and discard. Reserve tea.
Meanwhile, prepare a glaze by heating butter, brown sugar and cranberry juice into a saucepan over medium heat until butter is melted and sugar is dissolved. Add tea and reduce mixture by cooking over medium high heat for 15 minutes. Set aside.
To prepare turkey, remove giblets and neck from turkey, rinse inside and out and pat dry. Place a cut lemon and a cut-up onion into the cavity and truss the turkey. Place in an open roasting pan breast side up. Brush skin with glaze. Bake turkey in preheated oven. Keep glaze warm on stove and continue basting with glaze every 20 minutes.
Remove turkey from oven and let stand for at least 20 minutes before carving. Discard any unused glaze.
To make gravy, dissolve cornstarch in chicken stock. Place roasting pan on burner over medium heat, scraping browned bits. Add stock whisking constantly until thickened; about 1 minute. Strain gravy and serve with turkey.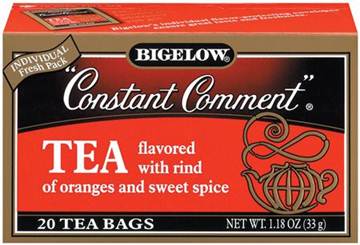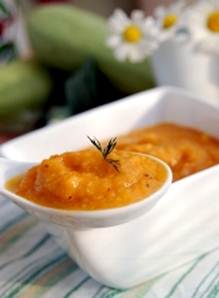 Ingredients:
2 pounds (1kg) carrots, peeled and cut into 1-2 inch pieces
12  Bigelow Orange & Spice Herb Tea Bags*
½ cup (125mL) milk
2 tablespoons (30mL) butter, melted
Ground pepper and salt to taste
5 shallots, peeled
1 ½ cups (375mL) vegetable oil
3 tablespoons (45mL) butter
Yield: Serves 6 – Prep Time: 15 minutes – Cook Time: 30 minutes.
Instructions:
Prepare the carrots. Add 8 Orange & Spice Herb Tea Bags to 4 cups(1L) of boiling water; let steep for 10 minutes. Remove tea bags. Cover carrots with tea and cook for 10-15 minutes or until tender. Meanwhile, infuse milk by heating with 4  Orange & Spice Herb Tea Bags for 10 minutes. Remove tea bags.
Drain carrots and puree in a food processor and add melted butter and infused milk. The carrots should be very smooth. Place in a casserole and garnish if desired with crispy shallots.
To make the garnish – slice shallots into very thin rings. In a saucepan heat oil with butter over medium-low heat until it begins to bubble, add shallots and cook until they are a rich golden brown; about 30-40 minutes. Stir shallots occasionally while they are cooking to make sure they brown evenly. Remove shallots from oil, drain. Once the shallots have dried and are crisped, they can be stored for several days. Serve shallots on top of carrots.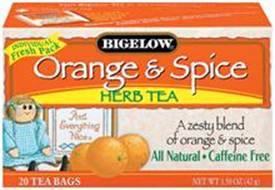 Creamy Custard Rice Pudding made with Bigelow Pumpkin Spice Tea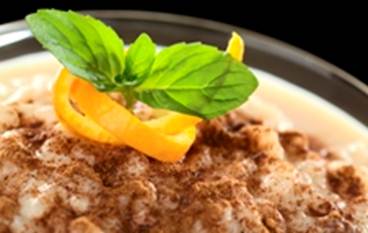 Ingredients:
11 Bigelow Pumpkin Spice tea bags
¾ cup raw long grain rice
5 eggs
¾ cup sugar
1-1/2 tsp vanilla
6 cups whole milk
Pinch of salt
Handful of raisins
Yield: Serves 8
Instructions:
Pour 1-1/2 cups boiling water over 3 Bigelow Pumpkin Spice tea bags.  Steep 5 minutes.  Remove tea bags without squeezing.
In a saucepan, return tea to boiling.  Add rice and stir.  Cook over high heat until tea returns to a low boil.  Reduce heat to simmer, cover and cook rice according to package directions, approximately 20 minutes.
In a large saucepan, scald 6 cups milk to which 8 Bigelow Pumpkin Spice tea bags have been added.  Remove tea bags without squeezing.
In a large bowl, beat eggs with fork.  Add rice, sugar, salt, raising and vanilla.  Gradually add milk and mix well.
Pour mixture into 2-1/2 quart baking dish.  Place into larger pan filled with 1 inch boiling water.
Bake in 350 degree over for 60 minutes.
Remove from oven.  Remove skin from top layer of custard and discard.  Stir gently to evenly distribute rice.
Refrigerate.  Serve chilled.   Garnish with whipped cream.