Looking At Bigelow Tea And National Cookie Day!
Tuesday, 4 December 2012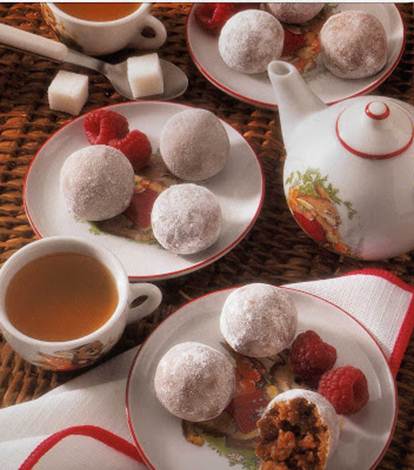 Don't let this special day be forgotten during your busy holiday season: Bigelow Tea is pleased to remind you that December 4th is National Cookie Day! Did you know that the English word "cookie" comes from the Dutch word "koekje," which means "little cake?" Cookies are perhaps the most comfortable of comfort foods. Making cookies as children is where we first learned about baking and the importance of measuring ingredients. Fresh baked cookies are about family, love and the holidays. And, yes, cookies are best friends with your favorite cup of tea!
And while cookies are perfect with tea, we remind you that Bigelow Tea is also perfect for cookie making! We've created many dessert recipes made with tea … and some are cookies!  Here are a few for you and your family to enjoy!
Lemon Lift® Glazed Butter Cookies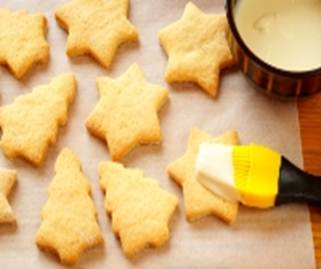 Ingredients: 
2/3 cups confectioners sugar
1 cup (2 sticks) unsalted butter, softened
2 cups all-purpose flour
¼ teaspoon salt
1 Bigelow Lemon Lift® Tea Bag
Yield: Makes about 4 dozen cookies.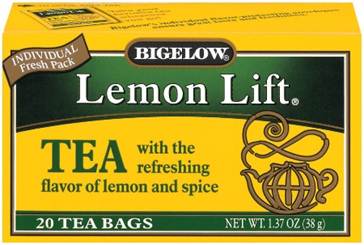 Instructions:
Beat together the sugar and butter until smooth and creamy. Stir in flour and salt, blending until dough is formed. Divide dough in half; shape into disks and wrap in plastic wrap. Chill 30 minutes.
Preheat oven to 350° F.
Roll dough on lightly floured surface to ¼" thick. Cut into shapes with cookie cutters, re-rolling scraps for additional cookies.
Place cookie shapes on ungreased cookie sheets and bake 12-15 minutes, or until edges start to brown. Remove cookies to wire racks to cool. Drizzle with Lemon Lift® Glaze.
*Lemon Lift® Glaze: Pour 2 tablespoons boiling water over 1 Bigelow Lemon Lift® tea bag in a small bowl. Let steep 5 minutes. Remove tea bag, squeezing out liquid. Gradually stir in 1 to 1 1/2 cups confectioners sugar until mixture is a glaze consistency, adding a few drops yellow food coloring, if desired
Constant Comment® Meringue Cookies With Pecans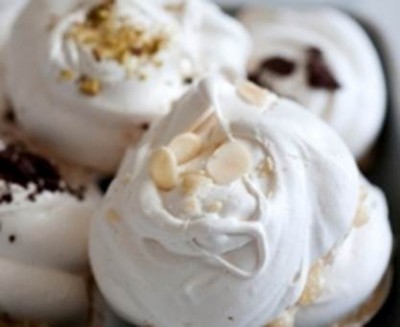 Ingredients:
1/4 cup hot water
2 Bigelow Constant Comment® Tea Bags*
Egg whites from 2 large eggs, at room temperature
1/2 teaspoon lemon juice
1/2 cup sugar
¼ cup chopped pecans (or walnuts)(optional)
Parchment paper
Yield: Makes 24 cookies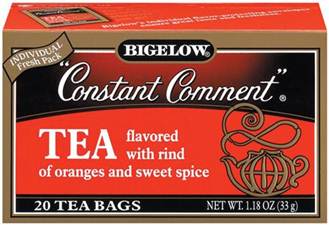 *Variations: Mint Medley Meringues: Substitute Bigelow Mint Medley Herb Tea for the Constant Comment Tea and substitute chocolate chips for the pecans.
Instructions:
In a measuring cup, steep tea bags in hot water for 5 minutes. Thoroughly squeeze tea bags into cup before discarding. Allow tea to cool.
Preheat oven to 275º F and place rack on middle setting. Line a large baking sheet with parchment paper.
Beat egg whites on medium-high speed with an electric mixer, until soft peaks form (about 2 minutes). Add the lemon juice, then the sugar, a little at a time, and raise the speed of the mixer to high.
Add 1 teaspoon of the prepared tea and continue to beat on high until stiff peaks form (about 5 minutes). The mixture should be very voluminous and look like fluffy whipped cream. Don't overbeat…the mixture should look glossy, not dry.
Using a 2 oz. ice cream scoop (or 2 spoons), place rounded mounds of meringue (about 2 tablespoons per cookie) onto prepared baking sheet and sprinkle with chopped nuts. Bake for 45 minutes, until firm to the touch. Turn off oven and allow the cookies to slowly cool as the oven cools (at least another hour). They will be crisp on the outside, with a slightly soft center. When they are finished, they will release from the parchment very easily.
Cool completely on a wire rack before storing in an airtight container on the countertop.
Image via moonstarsandpaper.blogspot.com