Cindi Bigelow Travels To Sri Lanka: First Full Day
Friday, 7 December 2012
Previously, we shared that Cindi Bigelow was heading to Sri Lanka to explore tea fields and tea auctions and it took many hours to get there. Enjoy Cindi's account below of her first full day!
Sri Lanka Trip: First Full Day in Sri Lanka
OK, my first full day in Sri Lanka, it was better than I ever could have hoped.   Growing up in a 3-generation family tea business, I thought I already know a lot about tea but I learned so much! The people in this country are so passionate and so knowledgeable about this precious gem that they have been producing here since the 1860's.  It is truly inspirational.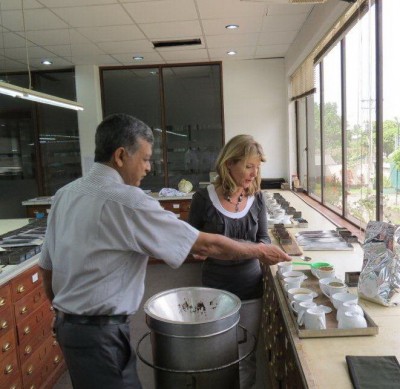 We spent the morning with one of our most long-time and treasured partners, Van Rees and their amazing team led by Niraj de Mel. He has over 30 years in the business and his knowledge of the industry was truly amazing. He is the quintessential professional, intelligent, poised, articulate and warm. He made our VP of the Tea Division John McCraw and I immediately feel at home. We felt as if we had known each other for years.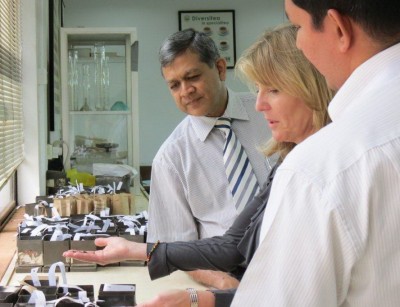 They took us through cup after cup of tea to share with us exactly what they look for when buying for us. Their ability to taste the smallest of nuances was both awesome and comforting.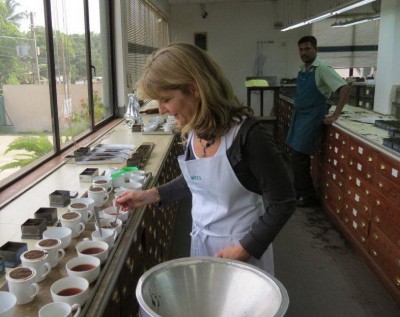 These people could not be better partners. They knew exactly what we wanted and more importantly how the teas would hold up over time. That is of critical importance to my family. I could have listened to Niraj for days. Then we watched them prepare for a tea auction in which we would be attending tomorrow; I was so excited to being seeing a live tea auction!  Niraj, his associate Prasanna Panabooke and all the others on the team review 12,000 samples a week for color, for size, for quality; it is amazing to watch them in action.  It truly took our breath away to watch these guys work through the samples.  I could never have imagined how intricate and delicate a process it was for these wonderful people to consistently gets teas that match the Bigelow standard month after month. We were in good hands!
I also got to visit a Sri Lankan tea packer after leaving Niraj and was able to see their operation and their people packing different teas for various customers around the world. Different than us but valuable to see for sure.
In just a matter of a few hours, we had come to realize how much tea is steeped in centuries of tradition and what a global beverage it truly is.  I also feel so blessed that my family and i are a part of this tea community. After only one day in Sri Lanka i got a much better understanding of what tea means to the world. Now i could see first-hand how tea was the second most consumed beverage in the world (after water).
Back to the hotel we went for we needed to get ready for our next experience, dinner with our wonderful hosts.
We met up with Niraj and several of his associates at around 7pm. They took us to a wonderful Sri Lankan restaurant.  Besides the outstanding food that we enjoyed, the conversation with our Sri Lankan partners was fascinating. We not only talked tea but we talked global politics and Sri Lanka history. The conversation flowed and the evening flew by. It was the perfect end to the perfect first day!  This was clearly going to be a week like no other in my life.
Cindi Bigelow