'Tis the Season for Bigelow Tea's December Holiday Tea Assortment Sweepstakes
Monday, 10 December 2012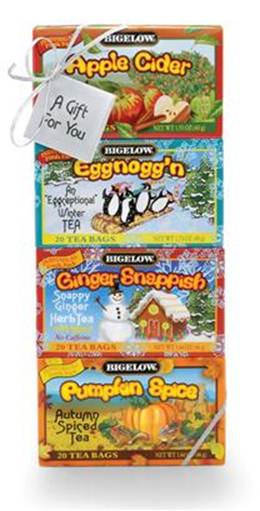 'Tis the season for tea drinking! For our December sweepstakes, we've decided to give away our Bigelow Holiday Tea Assortment! This assortment features one box of each of four distinctive Bigelow Tea seasonal blends:
• Bigelow Pumpkin Spice Tea
• Bigelow Eggnogg'n® Tea
• Bigelow Apple Cider Herb Tea
• Bigelow Ginger Snappish Herb Tea
Total Value: $14.95
We're delighted about filling teacups with good cheer. Twenty-four (24) lucky winners will receive our Grand Prize which contains 80 tea bags in all. And, because it's a holiday giveaway, the Grand Prize comes wrapped in festive boxes tied and tagged. It's ready for gift gifting upon arrival!
Our holiday assortment is the perfect present for any tea lover on your shopping list. Or perhaps you may choose to hold onto it as a personal gift to yourself. That way you can share your prize with visitors and serve our holiday blends to your guests.
To enter, we suggest you "like" our Bigelow Tea Facebook page and click on the sweepstakes icon under our cover photo. The sweepstakes ends on December 27th. Look for an announcement of the winners on our Bigelow Tea blog. Good luck and Happy Holidays!