Bigelow Tea Joins In The Celebration Of Three Kings Day
Friday, 4 January 2013
Bigelow Tea is proud to take part in recognition of Three Kings Day, celebrated this Sunday, January 6th. For the Hispanic community and many others, Three Kings Day, or Los Reyes Magos, is one of the most important holidays of the Latin world, commemorating the "three wise men" that followed the star to Bethlehem, bringing gifts of gold, frankincense and myrrh.
Celebrated twelve days after Christmas, Three Kings Day is also known as Epiphany. While children may still get presents on December 25th, Three Kings Day also rewards them with presents and candy for being good. There are also parades and festivals in communities across the country, even at Disneyland! Family gatherings include traditional treats like Rosca de Reyes, the "Mexican Kings Bread."
Our teas can also be a part of Three Kings Day, either as a beverage or in one of our fantastic recipes. Here are two recipes that embrace the Hispanic influences of Three Kings Day: Roasted Pork Chops Pomegranate Pizzazz® over Mashed Plantains, and Chamomile-Mango "TresLeches!" Enjoy!
Roasted Pork Chops Pomegranate Pizzazz ® over Mashed Plantains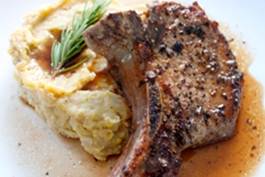 Ingredients:
4 cups of water
1/4 cup kosher salt
2 tablespoons honey
3 garlic cloves, mashed
3 sprigs of rosemary
1 tablespoon peppercorns
10 Bigelow Pomegranate Pizzazz ® tea bags
4 (3/4 inch thick) rib pork chops 8-10 ounces each (about 2 pounds total)
1 cup of boiling water
1/2 cup orange juice
2 tablespoons (30ml) brown sugar
Olive oil
4 large yellow plantains, rinsed and sliced into 2-inch chunks with peel on
1 tablespoon canola oil
3 garlic cloves, minced
2 large shallots, diced (about 1/2 cup)
Salt and pepper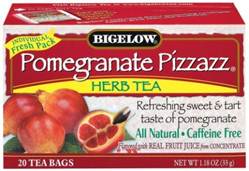 Instructions:
Combine water, salt, honey, garlic, rosemary and peppercorns in a large pot, cover and bring to a fast boil. Remove from heat. Add 5 Bigelow Pomegranate Pizzazz® tea bags. Steep 20 minutes. Remove tea bags from brine, extracting as much liquid as possible. Allow to cool and chill until ready to use. The brine should be completely cold before adding the pork chops.
Combine pork chops and brine solution in a large plastic bag, Chops should be completely submerged. Place the sealed bag in a large glass bowl or container and refrigerate, at least 2 hours or up to 4 hours.
Plantains Directions:
Put plantains in a heavy saucepan with enough cold water to cover. Bring to a rolling boil. Lower to medium heat and simmer covered until the plantains are tender and peeking out of the peel, about 20 minutes. Drain plantains, reserving cooking liquid. When cool enough to handle, peel and mash the plantains until smooth, adding cooking liquid as needed. Set aside.
Remove the pork chops from the brine, rinse and pat dry. Discard brine solution. Heat the olive oil in a large skillet over medium-high heat until shimmering but not smoking. Working in two batches, carefully add pork chops to skillet and brown, about 3 minutes on each side. Transfer seared pork chops to a baking pan and set aside.
Preheat oven to 400 degrees
Add 5 Bigelow Pomegranate Pizzazz® tea bags to boiled water. Steep 5-8 minutes. Remove tea bags, extracting as much liquid as possible. Add brewed tea, orange juice and brown sugar to the skillet and simmer until reduced by about half. Pour sauce over pork chops and place the baking pan in preheated oven. Roast until an instant-read thermometer inserted horizontally registers 150°F, 7-9 minutes. Remove from oven and allow to rest 5 minutes before cutting.
While the pork chops roast, wipe the skillet clean and heat the canola oil in a large skillet over medium heat. Add the shallots and garlic and sauté about 3 minutes. Add the plantains and sauté until heated through. Add salt and pepper to taste.
Serve the pork chops over the mashed plantains. Pour sauce over pork and garnish with a sprig of rosemary.
Serves 4
Ingredients:
Pound Cake:
1 ½ cups all purpose flour
¼ tsp baking powder ¼ tsp salt
½ cup (1 stick) butter
1 ½ cups sugar
3 eggs
1 tsp vanilla extract
1 ½ cup milk
Milk Syrup:
1 ½ cups evaporated milk
1 ¼ cups heavy cream
15 tea bags Bigelow Chamomile-Mango
1 ¼ cups condensed milk
Whipped Topping:
1 cup heavy cream
2 tbsp powdered sugar
½ tsp vanilla extract
Yield: Serves 16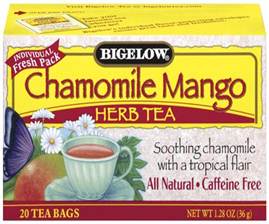 Instructions:
Preheat oven 350 degrees.
Sift together flour, baking powder, and salt. Using a stand mixer, beat butter until fluffy. Add sugar and beat until thoroughly combined. Add eggs one at a time. Make sure to mix well before each addition. Add vanilla. Mix dry ingredients with milk alternating flour mixture and milk until combined (beginning and ending with flour mixture). Pour batter into a buttered and floured 9×9 square pan. Bake for 25-30 minutes or until top is golden brown and toothpick comes out clean.
While the pound cake is baking prepare the milk syrup which will be used to soak the cake. Combine evaporated milk and heavy cream into a medium sized saucepan. Add the tea bags. Bring mixture to a simmer over medium heat. Do not boil. Let tea steep into the milk-cream mixture for approximately 45 minutes. Remove tea bags, squeezing out the excess liquid. Add the condensed milk and vanilla. Stir.
After the cake has cooled, use a skewer to poke holes into the cake. Make sure to make enough holes. Pour the milk syrup over the cake. Cover with plastic wrap and chill in the refrigerator for at least three hours, preferably overnight.
When ready to serve, make whipped topping. Combine the cream, powdered sugar and vanilla in mixer. Beat until soft to medium peaks form. Cover the cake with whipped topping. Cut into pieces and serve. Top with fresh sliced strawberries.
Image by Congreso de la Republica del Peru via flickr.com