Busy Bigelow Tea Fan Of The Month Tiffany King Takes A Break With "Constant Comment"®
Tuesday, 8 January 2013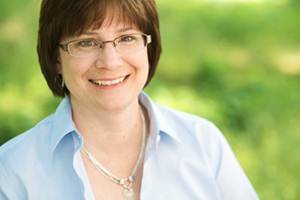 January Fan of the Month Tiffany King won our hearts with her refreshing take on the work/life balance. "I've learned to work in chaos," says this busy blogger and home-school mom of four. "Of course, I have to include a break for a cup of Bigelow Tea and a few gingersnaps." And we love that on her Eat at Home blog, Tiffany wrote a post recommending keeping a pretty basket of tea handy. Her own basket includes her personal fave,"Constant Comment,"® as well as Vanilla Chai and Pumpkin Spice. Yum!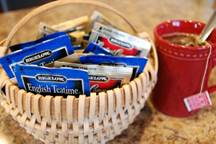 We recently caught up with Tiffany to learn more about how she manages a home that is doing triple duty as a hub for family, school and work activities. "Homeschooling is challenging, but we love it," says Tiffany, noting that her two youngest children are taught at home, the oldest is in college and one takes college classes. Each day, after teaching, she shifts right into work mode. "I don't have an office, so my work is done while the kids and their friends run in and out playing."
Come evening, Tiffany's kitchen becomes her "lab." Making dinner often entails creating new recipes and photographing them for her blog, which is dedicated to helping busy people make quick and delicious home-cooked meals. Look for her Bigelow Tea-inspired recipe in a future post on our blog!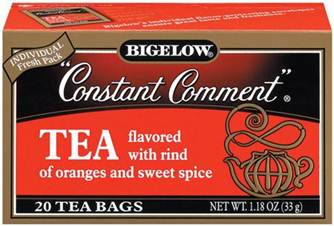 Tiffany cherishes the increasingly rare occasions when her whole family eats together: "We try to make Sunday lunch a time to come together for a meal and conversation." And as Tiffany knows, there's nothing like the orange-and-spice aroma of "Constant Comment"—the very first Bigelow Tea!—to evoke warm memories of time spent with loved ones. "My youngest daughter is a tea lover too and she shares my affinity for 'Constant Comment.' " Beautiful!