Cindi Bigelow Travels To Sri Lanka Journal: Our First Glimpse of the Tea Fields
Thursday, 17 January 2013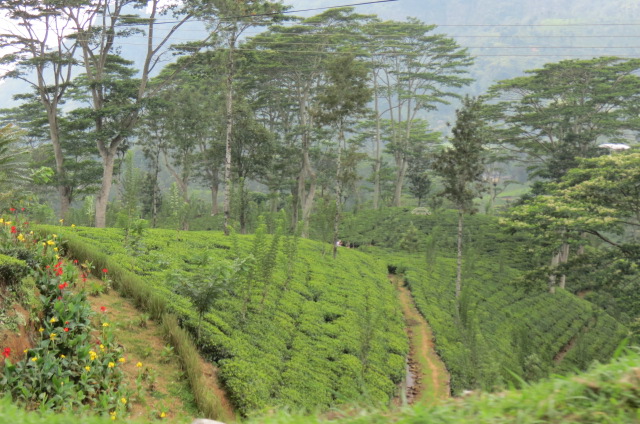 We continued our climb up.  As we ascended we started to see the most beautiful vision…tea bushes. The Camillia sinensis plant, thousands of them, everywhere. The mountain side was covered in these distinctive plants as far as the eye could see.  It was like nothing I have ever seen in my life. Here was the bush that three generations of my family has been dedicated to for almost 70 years, right in front of me.
Higher and higher we climbed. Past 4,000 feet then 5,000 feet, past monkeys, oxen, mongoose. Finally at around 5,500 feet we reached our first plantation, Waltrim, a state-of-the-art facility sitting high up in the Nuwara Eliya section of the Sri Lankan mountains (there are six regions total). It was a site for sore eyes.  Nestled in the hills was this plant that had over 1,000 acres of tea bushes.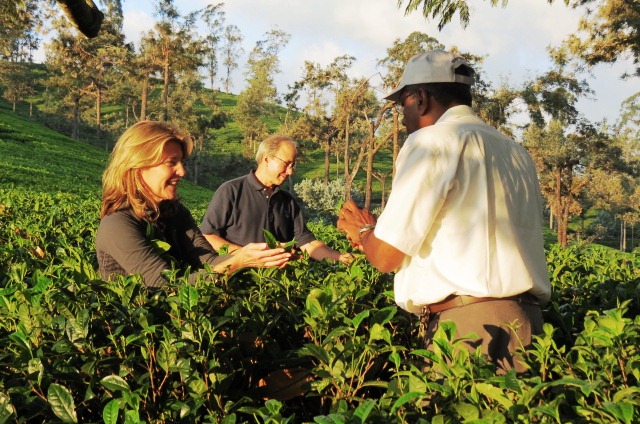 I could never share what that visit meant to me (nor really what all the plant visits meant to me). Needless to say it was beyond words. I had so many questions for them, I thought their management team was going to send me home. But each time they shared more about their process (each factory is a little different). I had a ton more questions. It was so interesting. I mean really, I was actually seeing withering beds with my own eyes. I was watching the leaves go through the rolling machine then the Rotovane machines to be carefully chopped into different leave sizes, then laid out on special beds to finish the fermentation, finally dried at about 125 degrees after 21 minutes.
Tea was being made in front of my very own eyes. We only buy orthodox tea, which is all that comes from the high mountain gardens of this country. It is a slower method to process the tea but it produces the lightest brightest most favorable cup. The process is centuries old but timeless in ensuring that perfect cup.
Cindi Bigelow