Bigelow Tea Dishes About How To Take The Bite Out Of Cold And Flu Season
Wednesday, 23 January 2013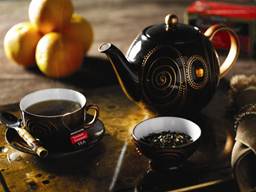 If there's one good thing about cold and flu season, it's that it offers another incentive to eat well and stay hydrated. We know that drinking lots of water and beverages like tea is the best way to stay hydrated. And research suggests that consuming a diet with plenty of essential vitamins and minerals can boost your immune system, the body's first line of defense against those nasty cold and flu viruses.  So let's make healthy food choices and brew up a pot of Bigelow Tea!
Of course, even the most robust people get sick occasionally, especially when exposed to others who are coughing and sneezing. Experts remind us that frequent hand washing is essential to keeping the germs away. Shopping for foods that boost your immunity is also important. As Bruce Bistrian, MD, PhD, Professor of Medicine at Harvard Medical School, tells WebMD, "The immune system needs certain nutrients to be strong and fully functional."
And, there are reasons to drink tea that go beyond hydration and deliciousness! Published research from Brigham and Women's Hospital and Harvard University suggests that theanine in tea may support your immune system. A cup of tea contains an average of 20-25 mg of theanine.  That's heart-warming research for Bigelow Tea lovers!
Finally, here's a look at foods that research suggests that can help you shape up for cold and flu season:
Garlic – May increase resistance to infection and stress.
Dairy products – Contain conjugated linoleic acid, which has boosted immune response in animal studies.
Whole grains – Deliver immune-boosting selenium.
Vitamin C – Has been found to enhance immune function.
Zinc – Known to play an important role in proper immune function. Good sources include meat, chicken, peanuts and peanut butter.
While good eating habits and some tasty cups of tea are no guarantee you'll stay healthy this season, you'll still be nourishing and hydrating your body. And that's always a wonderful thing!
Photo by Jon Sullivan via public-domain-image.com