Cindi Bigelow Travels To Sri Lanka Journal: Our Visit to Pedro
Thursday, 24 January 2013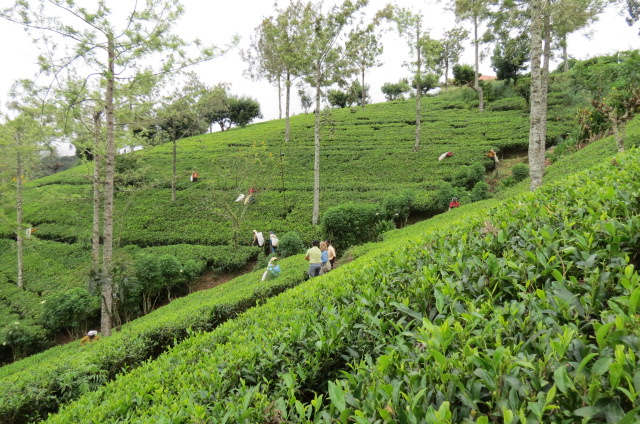 Off we went to our third plantation. We were now heading up to 6000 feet to the top of the mountain to our third (and one of our company's favorite plantations that produces teas for our blends).  It is called Pedro.
As the gates opened up and we pulled into the lot, I was about to experience something that would profoundly impact me. The fields were filled with color as the Sri Lankan women in bright color clothing were in the fields busily plucking the freshly grown shoots off the bushes. I asked if I could join them and, after a nod from the manager, I ran down the steps and into the fields where the ladies were working.   When I came upon the first woman I asked her name and then happily shared mine.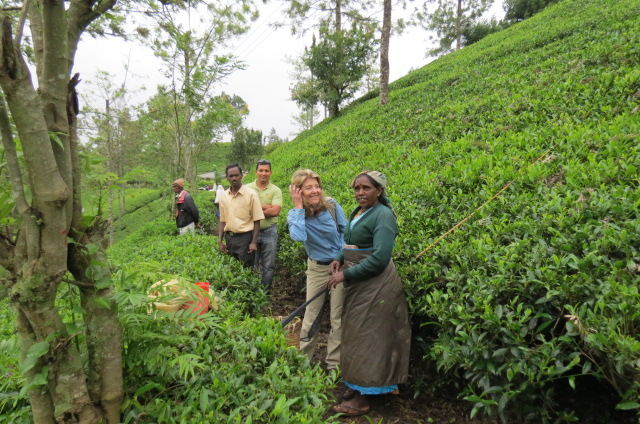 After a whole bunch of smiles exchanged she started to work again. I just watched with amazement. She moved so quickly with such skilled hands. I, of course, tried to duplicate what she did and could only laugh at the results.  So did she.
After a few minutes I moved on to another lady and then another. We had the same exchange. Many smiles and it gave them great joy each time I tried to accomplish what they were doing with such ease. Even the manager joined in to coach me!
After that I followed the women to the weigh station. Every two hours of collecting the tea leaves they head down to designated areas to have their prize possession weighed. As they lined up smiling and chatting, quite curious about who I was, I had the manager explain how my family has been selling for 67 years the teas they pluck, and how my grandmother had fallen in love with Ceylon tea back in 1945.  We have been devoted purchasers ever since.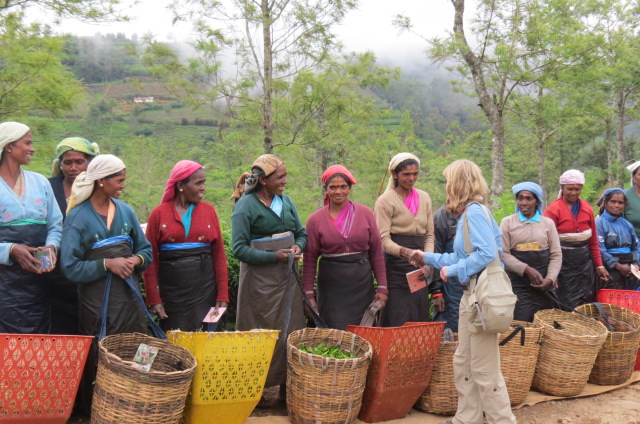 That their garden was one of our favorites. And with that I started to walk down the line of beautiful women shaking their hands and saying "nan dri," which is "thank you" in their language.  I couldn't help myself as tears came down my cheek. When they asked why I could only say because I was so happy. So happy to witness this historical profession with my own eyes. Something never done by my family before. I was representing three generations whose entire lives have been centered around tea. It was a moment like no other.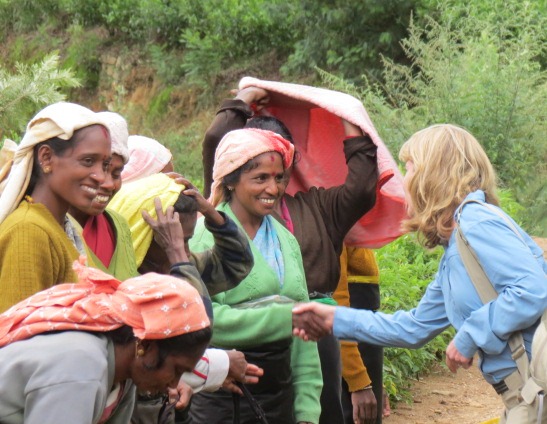 After close to an hour in the field we went up to the "tea room." There we got to see all the amazing work being done at Pedro. This plantation is certified Fair Trade, ISO 22000, ETP, Rain Forest Alliance and has built new homes for all their 800 employees.  So many of the plantations in Sri Lanka are moving in this direction in order to keep this historical profession sustainable into the future. They know they have to take care of the worker and the fields if they want these gardens to prosper for hundreds more years!
After many hours of learning and tasting we headed out. But my experience at Pedro will never leave me. It was a profound moment in my life. Back in the car we went, waving goodbye to some truly wonderful people.
Cindi Bigelow