Bigelow Tea Shares Suggestions For Celebrating Hot Tea Month
Friday, 25 January 2013
Are you exploring the wonders of tea in honor of Hot Tea Month? Here at Bigelow Tea, we know that while tea is an ancient beverage, there is always something new to discover about its natural goodness. Writer Kim Gordon Moore certainly proves the point with her article offering "12 Ways to Celebrate National Hot Tea Month in January." We're sharing interesting tips from the list, along with a few of our own for indulging your passion for tea. Perhaps you'll be inspired to step outside your tea comfort zone … and fall in love all over again!
You might study tea pairing, make a tea recipe, visit a tea house, or learn about samovars and gaiwans—Chinese lidded bowls used for the infusion of tea leaves—as Moore suggests. Her recommendation to "patronize tea businesses that give back to the community" is one we wholeheartedly endorse, too! She also gives a nod to our own Charleston Tea Garden, the only working tea farm in the continental United States, as an idyllic place to see actual tea plants.
These are all wonderful ideas, of course, but our favorite suggestion is to savor each cup of tea. With more than 120 varieties, Bigelow Tea won't let you get bored. If you're a devotee of unflavored black teas, why not try fun flavors like new Caramel Chai or one of our many Green Teas? And conversely, if you always go for rich tea blends, it's a perfect time to discover classics like English Breakfast and Earl Grey, which have distinctive flavor profiles. Feeling adventurous? Give Chinese Oolong or Jasmine Green Tea a whirl. Herb teas, such as Lemon Ginger Herb Plus and Orange & Spice, offer refreshing flavors without caffeine.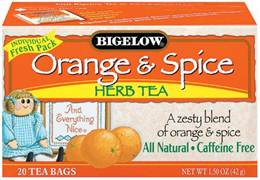 Enjoy your tea journey all month long and throughout the year!