Bigelow Tea Is Looking Forward To The Big Game!
Tuesday, 29 January 2013

It's almost here: Super Bowl XLVII (that's #47 for us "Roman numeral-deficient" types)! We're seriously revved up at Bigelow Tea for the big game Sunday, and all of the pomp and circumstance that surrounds it. The game is being played at the newly named and renovated Mercedes-Benz Superdome in New Orleans, and it's not just a game … it's an event!
From the pre-game to the super halftime show featuring musical icon Beyonce to the whole amazing city of New Orleans, this will be one Super Party. If you happen to be throwing a party, let Bigelow Tea provide some Super beverages and appetizers for your guests, like our Sangri–Tea-ahhhh Iced Tea Lemonade and our Miniature Vegetable Quiches
(both recipes below) that both taste great!
We even expect an exciting game between the Baltimore Ravens and the San Francisco 49ers. We know our good Bigelow Tea friend (and Super Bowl XXI MVP Quarterback) Phil Simms will be watching for sure. He's not only one of the greatest New York Giants in history—he's one of the best Bigelow Tea spokesmen ever!
So, in anticipation of Sunday, here are a few "Super Facts" we wanted to share!
Super Fact: it has been 10 years since the big game has been played in the Superdome. On February 3, 2002 the New England Patriots beat the St. Louis Rams 20-17 in the Superdome.
Super Fact: Phil Simms's MVP passing performance in the big game XXI is still considered one of the greatest in history!
Super Fact: the best seats for the big game are actually at home with friends, family and a cup of Bigelow Tea! Throw in a snack like Mini Vegetable Quiches made with Bigelow Tea, and you will be all set for kickoff! Enjoy!
Sangri–Tea-ahhhh Iced Tea Lemonade (Red)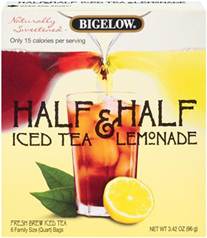 4 cups boiling water
2 bag Bigelow Half & Half Iced Tea & Lemonade with Pomegranate
3 tablespoons sugar
3 cups fresh fruit including oranges, lemons, peaches and apples ( Red, Fuji or both) cut into bite sized pieces
½ cup Brandy
½ -1 liter of any flavor sparkling seltzer water
1-750mL bottle of Merlot
Makes 4 servings Prep Time: 15-20 minutes Chill Time: 1 hour or overnight
Instructions:
Place tea bags in a 4-cup glass measure. Add boiling water. Let steep for 10 minutes. Squeeze and remove tea bags, add sugar, and stir to dissolve. Add brandy and fruit to tea concentrate. Refrigerate 1 hour (or up to one day for a stronger flavor). When ready to serve, combine chilled mixture with wine and sparkling seltzer water. Pour into ice filled pitcher.
Serve and enjoy!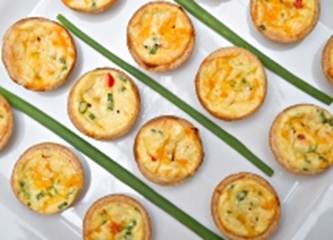 Ingredients:
Tea Concentrate:
10 bags Bigelow Green Tea
1 cup boiling water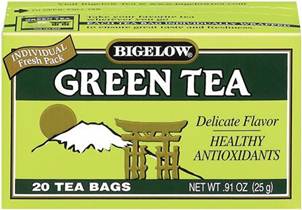 Vegetable Tea Mixture:
2 tablespoons extra virgin olive oil
¾ cup diced colored bell peppers
½ cup asparagus tips: cut into small pieces, 1/2 – 1 inch
½ cup frozen peas
1 tablespoon minced shallots
¼ cup tea concentrate 
Egg Mixture:
6 large eggs
½ cup half and half
½ teaspoon salt
¼ teaspoon freshly cracked pepper
4-ounces (1/2 of an 8-ounce) package cream cheese, slightly softened, cut into 18-20 pieces
Dill, optional garnish
Yield: 18 to 24 miniature quiches depending on size of mini-muffin tin (About 1 ½ cups vegetable mixture.)
Prep Time: 20 minutes
Baking Time: 15 to 18 minutes
Top image by Iam_chihange via Flickr.com