Bigelow Tea Goes Red for American Heart Month
Wednesday, 30 January 2013

Let's get ready to focus on matters of the heart in February! The second month of the year is American Heart Month, and Bigelow Tea encourages everyone to learn more about heart disease. And please wear red on Friday, February 1 … the 10th anniversary of National "Wear Red" Day!
National Wear Red Day is the perfect way to kick off American Heart Month, and to lead into Women's Heart Week, which begins on Monday, February 4. By wearing Red on Friday, people will make a statement that it's important to take action and commit to fighting heart disease. The Wear Red awareness campaign certainly adds a lot of color to this important cause!
According to the American Heart Association, heart disease remains the leading cause of death for women. It's more deadly than all forms of cancer. Since the first National Wear Red Day ten years ago, 21 percent fewer women are dying from heart disease and 23 percent more women aware that it's their No. 1 health threat.
At Bigelow Tea, we think that "sipping" red is a nice way to recognize the day too! Enjoy the flavors of our teas that come wrapped in red-colored boxes. Start off with something fruity like our Red Raspberry or Pomegranate Pizzazz herbal teas. Or add a little spice to the day with "Constant Comment"® or Spiced Chai. There are many Bigelow Teas in red wrappers, so check them all out!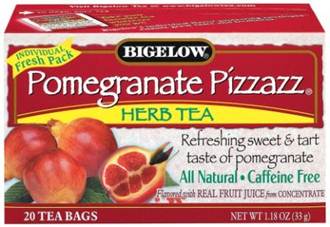 So, as you move through February, remember to take your heart health seriously … and enjoy a little tea along the way!
Top image via American Heart Association/Go Red for Women