Cindi Bigelow Travels To Sri Lanka Journal: More On The Art Of Tea
Wednesday, 30 January 2013
We headed toward the Ragalla Estate where we had another incredible learning experience, focused mostly on the processing and tasting of these delicate teas. Each plant processes a little differently to get the exact flavor they want to represent their gardens, much like wine.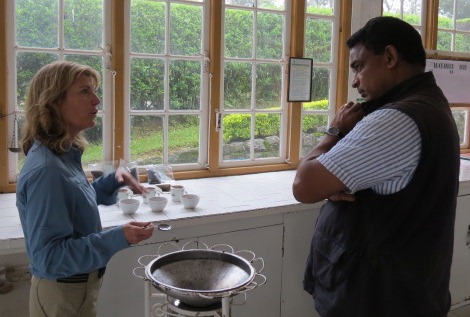 After a few more hours we headed to a hotel in Bandarawela.  We just dropped our stuff off and headed back out to visit the Nayabadda factory to see their night manufacturing.  Well that was an experience! Up windy roads with few signs in the pitch black of night. Turning and turning, we made our way to this large, hundreds-of-years-old factory on top of a hill.
The crew greeted us with huge smiles. There, the learning process began once again, with an understanding of how they have operated for over 150 years to gently process this tender leaf to create the perfect light, bright cup of Ceylon tea.
We finished up and headed back to the hotel for a late dinner.  Completely exhausted at this point, I flopped into bed to catch a few hours' sleep before waking up early to head back to Colombo. As I lay in bed my mind was swirling with information and emotion. I felt so connected to this wonderful country and, to be honest, with the realization that this could be the last time I came to visit. So I was happy and sad all in one.  This was truly a trip to cherish for a lifetime.
Cindi Bigelow