Love Tea? Enter the Bigelow Tea February Sweepstakes!
Friday, 1 February 2013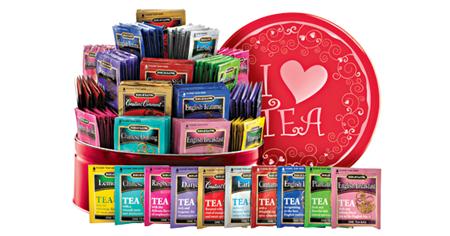 Looking for something to brighten up your February?  Enter Bigelow Tea's February sweepstakes to win the I Love Tea Tin or our Valentine Gift Duet! Both our I Love Tea Tin and the Valentine Gift Duet will definitely bring a smile to your face, or the face of a loved one … if you decide to share!
Filled with a variety of 120 individually wrapped flavored black teas, such as Earl Grey, "Constant Comment®", Cinnamon Stick, and English Teatime, our I Love Tea Tin is bound to please. The I Love Tea Tin could be the perfect post-Valentine's Day gift, something special to brew with friends or family, or even something just for you to enjoy.  What's not to love? If you love tea, you will definitely love the I Love Tea Tin.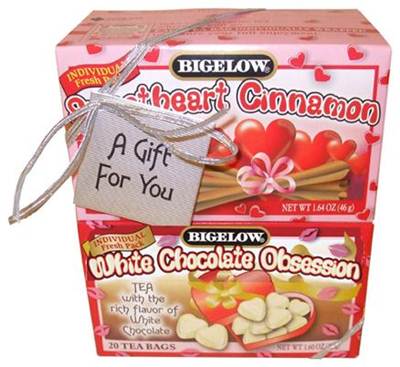 And the Valentine Tea Twin Pack features our White Chocolate Obsession Tea—which blends the heavenly taste of rich, decadent chocolate and robust black tea—and Sweetheart Cinnamon Herb Tea, a tantalizing combination of cinnamon and sweet apple herb tea.
Enter our sweepstakes from February 1 (today!) to February 22 to win these amazing prizes!  Fourteen (14) lucky winners will receive our I Love Tea Tin and fourteen (14) lucky winners will receive our Valentine Gift Duet … so don't hesitate to enter!  To enter, simply "like" our Bigelow Tea Facebook page, then click the Sweepstakes icon under our cover photo and follow the instructions.
Look for an announcement of the winners on our blog! Good luck!