Cindi Bigelow Travels To Sri Lanka Journal: Heading Back
Monday, 4 February 2013
Down the winding roads we went, turning, turning, turning. I will have to say the drive, while having stunning views, was not for the faint of heart.  Both from the car motion as well as the style of drive. I truly felt the drivers in this country have a language of their own.  Passing and honking at a level that would be considered completely out of the question in the US. But here, well, they just kind of knew what they were doing, and more importantly the other drivers seemed to know too.  Many a time our wonderful driver, Ishanka, would have to slam on his breaks to avoid a steer or oxen in the middle of the road. Or dart away quickly from a "tuk tuk" (small motorized vehicles that fill the streets in Sri Lanka). But we trusted Ishanka.  Although he spoke no English, we knew that he knew exactly what he was doing.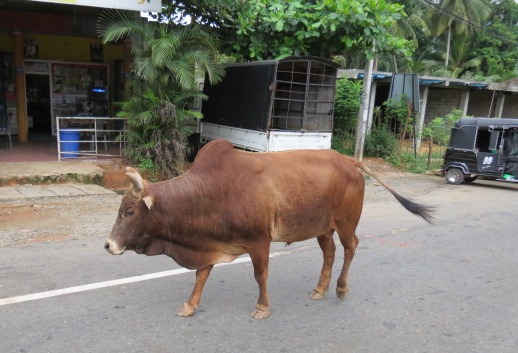 Finally, six hours later we arrived in town. We stopped at a small stand on the roadside to enjoy a king coconut.  There, all four of us got out and John and I watched in amazement another old tradition. The owner of the stand took out his machete, cut off four small orange coconuts from a branch freshly off the tree, then passed it to his wife who took a knife to chop off the top.  They placed a straw in the hole they had created and handed it to us.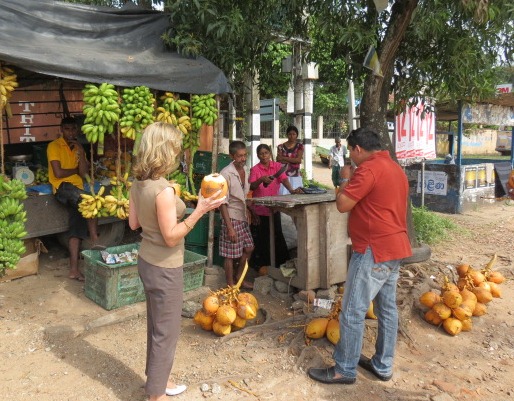 The locals do not drink coconut in the middle of the day as it is thought not to be good for you in the heat of the day, but Prassana and Ishanka joined us as good hosts. When we finished drinking the coconut water, they hacked open the entire coconut, first cutting a small piece of the side of the shell to form a scoop. We then used that scoop to remove the coconut gel in the middle of the nut. It was quite an experience and certainly on "the bucket list" of things to do while in Sri Lanka.
It was now time to drop Prassana off at his home where we met his warm and welcoming mother-in-law. She of course invited us in to chat. After a short visit we said our heartfelt good-byes to our most wonderful guide, partner and friend.  We were going to miss him!
John and I didn't have much time to dwell on that fact, however. We were already late for our next meeting. This trip literally had us on the go non-stop!
Cindi Bigelow